The IRENA Legislators Forum brings together a growing network of parliamentarians with an interest in accelerating renewable energy uptake. If you are interested in participating in the Legislators Forum or joining our network, please contact us at legislators@irena.org
2020 IRENA Legislators Forum
The 5th IRENA Legislators Forum took place on 10 January 2020 in Abu Dhabi, United Arab Emirates and discussed the role of engaging communities to accelerate the energy transformation and promoted a fair and just transition. See the background note and the agenda.
Read more about the outcome of the 2020 IRENA Legislators Forum here.
Previous Legislators Forum
2019 Event
10 January 2019 | Abu Dhabi, United Arab Emirates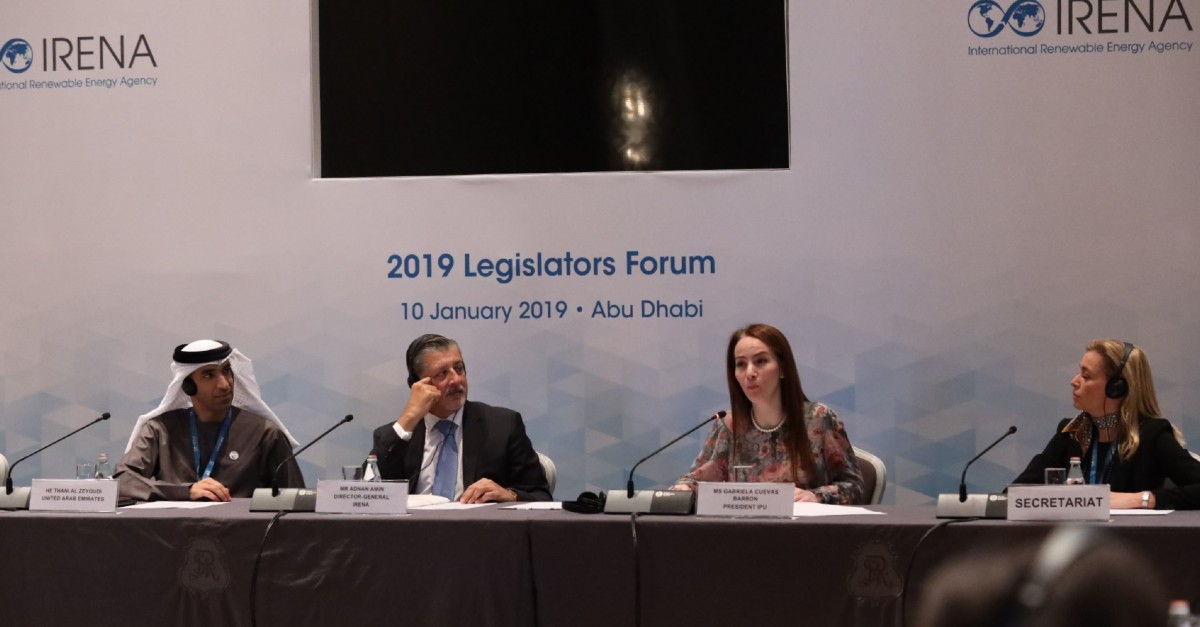 In its fourth edition, the IRENA Legislators Forum hosted discussions among 44 members of parliament from 27 countries, who emphasised the key role of renewables in accelerating the energy transformation and in reaching the goal of universal access to affordable, reliable, sustainable and modern energy by 2030 as set by the Sustainable Development Goal 7 (SDG 7) in the United Nations 2030 Agenda for Sustainable Development. Discussions focused on the significant role that parliamentarians can play in supporting and monitoring an integrated approach to the implementation of SDG 7 by facilitating partnership and collaboration through inclusive national processes as well as effective and accountable institutions.
Legislators agreed that they are well-placed to enact the important changes that are required in the pursuit and achievement of the energy transformation, and highlighted a number of areas to drive parliamentary engagement in the energy transition with the inclusion of relevant stakeholders from the industry, and public and private sector entities.
Read more about the outcome of the 2019 IRENA Legislators Forum here.
2018 Events
January 2018 | Abu Dhabi, United Arab Emirates