South East Europe (SEE) has substantial, largely untapped renewable energy potential. Some countries in the region have begun to exploit these resources, but the renewable energy sector in southeast Europe is still in its infancy – except for the large hydropower capacity, most of which was constructed several decades ago.
Much of the region's vast and unexploited potential could already be cost-competitive for power generation, as indicated in the IRENA report, "Cost-competitive renewable power generation: Potential across South East Europe". SEE policy makers are poised to continue scaling up renewables in line with the EU 2030 Climate and Energy Framework's goal of deriving 32% of energy from renewables by that year.
The region has already attracted large-scale investment in renewables, but ensuring a successful energy transition requires more. Thus, IRENA established the South East Europe Regional Initiative and specified its commitment to the region in the Communiqué on accelerating the uptake of renewables in South East Europe. The support for policy makers and investors is provided in the following areas:
Mapping renewable energy resources:
Long-term planning for RE deployment:

Ongoing preparation of a REmap analysis for countries of Central and South East Europe;

Socio-economic benefits of renewable energy:
Ongoing preparation of Renewable Energy Market Analysis: South East Europe;
Enabling frameworks: technical, policy, regulatory, institutional:
Access to finance for renewable energy projects:
Integration of variable renewable energy sources to power system:
The Communique was adopted at the High-Level Meeting on Renewable Energy in South East Europe in January 2017. The previous regional meetings organized by IRENA include: South East Europe Regional Consultation Meeting in October 2016 and a Workshop on cost-effective renewable energy in South East Europe in March 2016.
---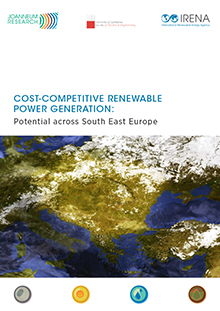 This report finds the region has a vast technical renewable energy potential of 739 gigawatts (GW) with wind energy being the most abundant resource, more than 4 times higher than that of solar PV. By 2030, additional cost-competitive potential for solar PV and wind is expected to reach 620 GW.
January 2017
|
Costs
|
English
|
Albania, Bosnia and Herzegovina