Solar Impulse Lands in Hawaii, Breaks World Record for Longest Flight
At 5:55 in the morning, the Solar Impulse 2 safely landed in Kalaeloa, Hawaii, and, along the way in the blue expanse of the Pacific Ocean, shattered the world record for the longest non-stop solo flight in any kind of plane. It is a historic first for solar energy, further proving the potential of renewable energy to power a clean, sustainable future. IRENA is proud to be a partner of Solar Impulse and its mission to demonstrate the possibilities of renewable energy.
The Solar Impulse 2 aircraft, piloted alternately by Swiss explorers Bertrand Piccard and Andre Borschberg, set off on its 22,000-mile journey around the world from Abu Dhabi on 9 March. It will end its epic journey back in Abu Dhabi sometime in late 2015, weather permitting.
"No solar plane has ever flown for this long and we're pushing the plane and pilot to their limits: fatigue, aircraft systems and energy management."- Bertrand Piccard, Solar Impulse Pilot
At 76h 45min into the flight from Japan to Hawaii, the Solar Impulse broke Steve Fossett's 2006 record for the longest solo flight in a plane, but there were other barriers to clear. Throughout the flight, the pilots had to cope with weather fronts, which forced them to maintain holding patterns and stay awake overnight.
After nearly five days of flying, the plane safely touched down during sunrise in Hawaii.
Watch the landing video:
"I feel exhilarated by this extraordinary journey. I have climbed the equivalent altitude of Mount Everest five times without much rest...This success fully validates the vision that my partner Bertrand Piccard had…to reach unlimited endurance in an airplane without fuel." – Andre Borschberg, Solar Impulse Pilot
On IRENA's partnership with Solar Impulse:
"By collaborating with Solar Impulse, IRENA reaffirms the importance of innovation and technology in achieving a cleaner, more secure, less volatile, global energy system. The project is truly emblematic of the type of pioneering spirit and innovation we are currently witnessing in the field of renewable energy. Its success is a testament to the fact that governments and the private sector are realizing just how much can be achieved through renewable energy deployment." IRENA Director-General Adnan Z. Amin
Overall, the Solar Impulse's trip around the globe is expected to take 25 flight days and is broken into 12 legs at speeds between 30 and 60 miles per hour. Its next destinations are from Hawaii to Phoenix and then New York, Europe and back to Abu Dhabi. The aircraft's wingspan is longer than that of a jumbo jet, but it weighs only 2.3 tonnes — about the same as a car.
Piccard's vision of an airplane flying day and night with no fuel has now become reality. If the world utilized the clean technologies similar to those used in Solar Impulse 2 today, energy consumption and CO2 emissions would be halved. Furthermore, these technologies are cost-competitive, support overall economic growth and create jobs.
Follow the Solar Impulse as it continues its journey with live updates.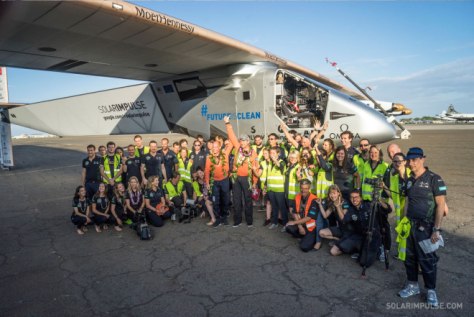 The Solar Impulse team