Poland Can Increase Renewable Energy Nearly Five-Fold by 2030
Country can source 38 per cent of its electricity from renewable energy sources by 2030
Warsaw, Poland, 27 October 2015 – Poland can increase its share of renewable energy in power generation from seven per cent in 2010 to nearly 38 per cent by 2030, according to a report released today by the International Renewable Energy Agency (IRENA). REmap 2030 Renewable Energy Prospects for Poland, prepared with input from the Polish Ministry of Economy, also finds the share of renewable energy in total final energy consumption can more than double to nearly 25 per cent by 2030.
"As one of the European Union's largest energy users, Poland plays a critical role in fulfilling the region's energy and climate goals," said Adnan Z. Amin, Director-General of IRENA. "Even in a country like Poland with cheap fossil-fuel based sources, renewable energy can be cost-competitive, reduce air pollution, enhance energy security, benefit the economy, and play a leading role in fighting climate change."
Under current policies, the share of renewable energy in Poland's total final energy consumption would increase to just 15.5 per cent by 2030. REmap 2030 estimates that renewable energy could feasibly reach 25 per cent if investments double to USD 4.5 billion annually. Doing so would reduce Poland's carbon dioxide emissions and could save up to USD 2 billion per year by 2030 when taking into account externalities related to health and environmental costs.
Poland's renewable energy use to date has been dominated by biomass. To achieve higher shares of renewable energy, the report finds the country must tap its vast wind power resources, improve its power transmission and scale-up grid development.
The report is part of IRENA's renewable energy roadmap, REmap 2030, which provides a plan to double the share of renewable energy in the world's energy mix by 2030 and determines the potential for Poland and other countries to scale up renewable energy in the energy system, including power, industry, buildings, and the transport sector. To date, five other country specific reports have been published including China, Mexico, Ukraine, the United Arab Emirates and the United States. The REmap report for Germany is due out in early November.
Download the full report here.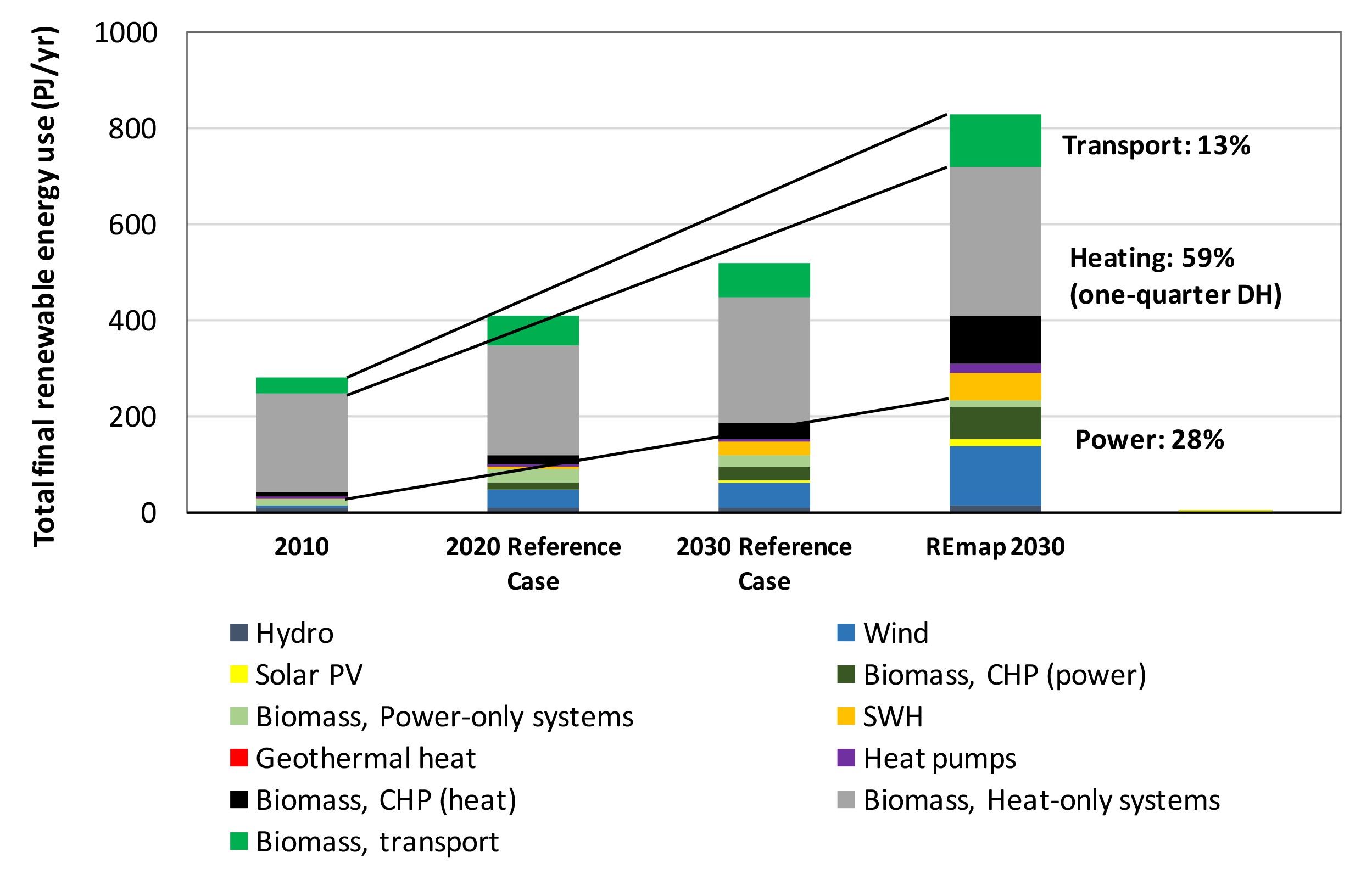 Figure: Potential growth by renewable energy source