Global Actions on Renewable Energy and Energy Efficiency Can Unlock Climate Solution
COP21 Energy Day demonstrates momentum in global energy transition
Paris, France, 7 December 2015 – Hundreds of governments, businesses and cities are making strong commitments to accelerate the ongoing energy transition at the UN Climate Change Conference (COP21) in Paris today. The entities are joining forces under a set of major cooperative initiatives being presented today during the Lima-Paris Action Agenda (LPAA) Focus on Energy.
"With the energy sector accounting for some two-thirds of global greenhouse gas emissions, the decarbonisation of energy must be at the heart of any effort to keep global temperature rise below two degrees Celsius," said IRENA Director-General Adnan Z. Amin.
New analysis from the International Renewable Energy Agency (IRENA) finds that achieving a 36 per cent share of renewable energy by 2030 would result in half of all emission reductions needed to maintain a two-degree pathway, while energy efficiency measures could supply the rest.
"The energy transition is underway worldwide but more action is needed. To scale up efforts to the level needed, we must utilise all available technologies, increase ambition among all actors in all regions of the world, and mobilise the funds needed to enable the transition," Mr. Amin added.
Today's announcements will include new initiatives emerging to help further drive this transition.
For a full list visit of announcements on today's LPAA Focus on Energy Day, visit: http://newsroom.unfccc.int/lpaa/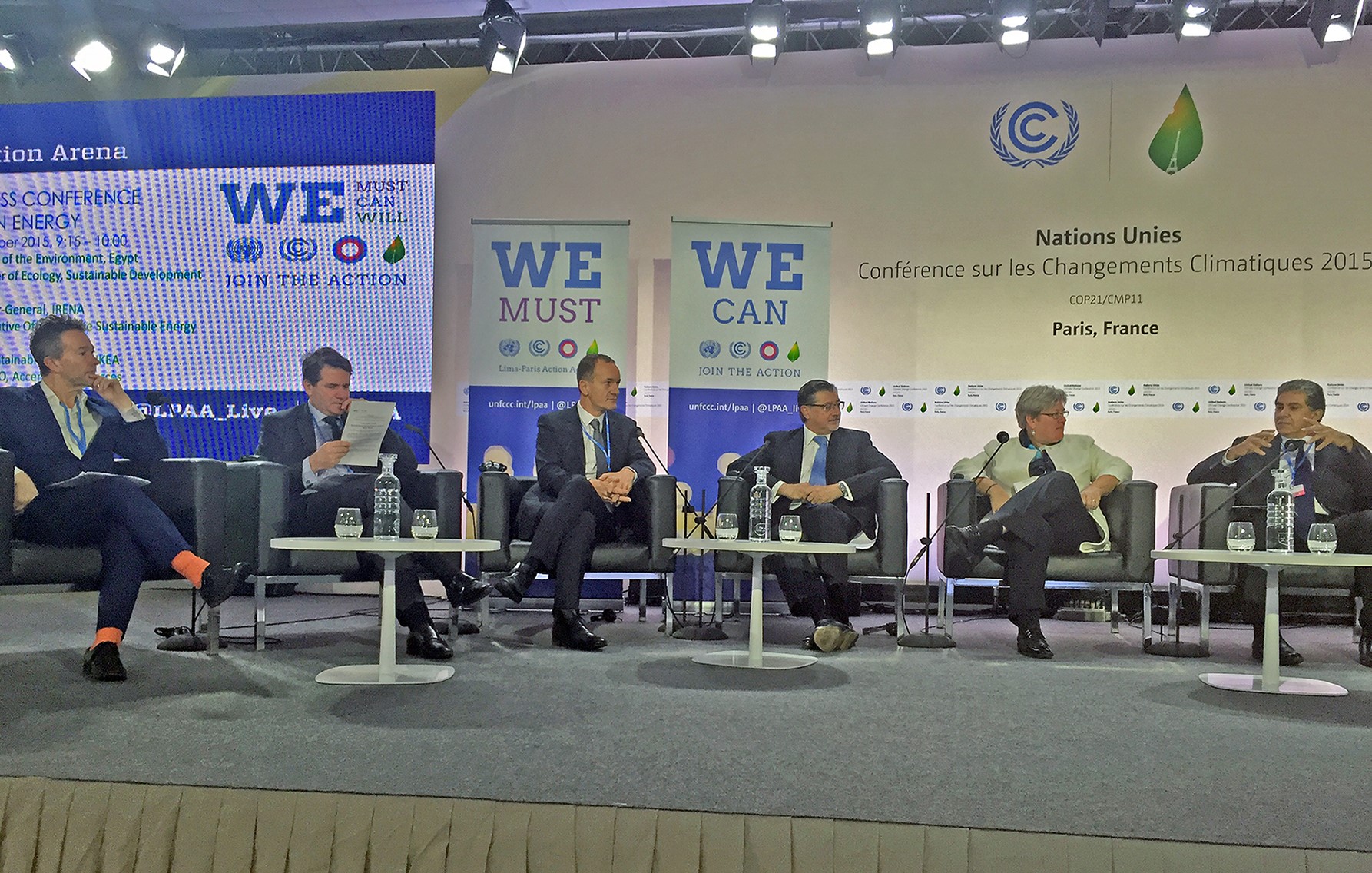 From left to right: Nick Nuttall (Moderator); Jean-Marc Ollagnier, CEO, Accenture Resources; Steve Howard, CSO, IKEA; Adnan Z. Amin, Director-General, IRENA; Rachel Kyte, incoming CEO, SE4All; Khaled Fahmy, Minister of Environment, Egypt, Chair of AMCEN
About the International Renewable Energy Agency (IRENA)
The International Renewable Energy Agency (IRENA) is mandated as the global hub for renewable energy cooperation and information exchange by 144 Members (143 States and the European Union). More than 30 additional countries are in the accession process and actively engaged. IRENA promotes the widespread adoption and sustainable use of all forms of renewable energy, including bioenergy, geothermal, hydropower, ocean, solar and wind energy in the pursuit of sustainable development, energy access, energy security and low-carbon economic growth and prosperity. www.irena.org
Contact information:
Hillary McBride, Communications Officer, IRENA, hmcbride@irena.org
T: +971 2 417 9000; M: +971 56 410 3572

Stay in touch with IRENA at www.twitter.com/irena and www.facebook.com/irena.org