IRENA Pre-Assembly Live Coverage
1,200 delegates from more than 160 governments, the private sector and civil society are gathering to discuss key issues in the global energy transition and chart the way forward for the Agency against a backdrop of remarkable progress on deployment.
This live blog provides a rolling coverage of the Ninth Assembly Events as they happen.
22:34
IPU President, Gabriela Cueva-Barron explains that renewable energy solutions can reach areas where traditional energy sources areas can't.
---
---
22:08
REN21 Executive-Director opens the floor for discussion at the Public-Private Dialogue, asking what is needed in terms of regulation, private sector engagement, and broad participation, in order to move the energy transformation forward. Steve Sawyer of the Global Wind Energy Council points out that we can't wait for pure economics to drive the energy transformation forward. While it will do so, it will not happen fast enough to avoid catastrophic effects of climate change.
However, as one private sector delegate pointed out, regulation is key: "You need a clear set of rules, otherwise it is difficult for investors to invest. Consider off-grid electrification: only eight countries worldwide have a regulatory framework for off-grid. Without vastly accelerating this number, it will be difficult to reach the levels needed."
---
22:07
The high-level meeting on renewable energy in Latin America Esteban Perez Andrich, National Director of Renewable Energy, Argentina says: "Despite the challenges that may lie ahead, our country will remain committed to deploying renewables in line with the national renewable programme of 2016. We are convinced that IRENA's support will be key."
---
---
21:49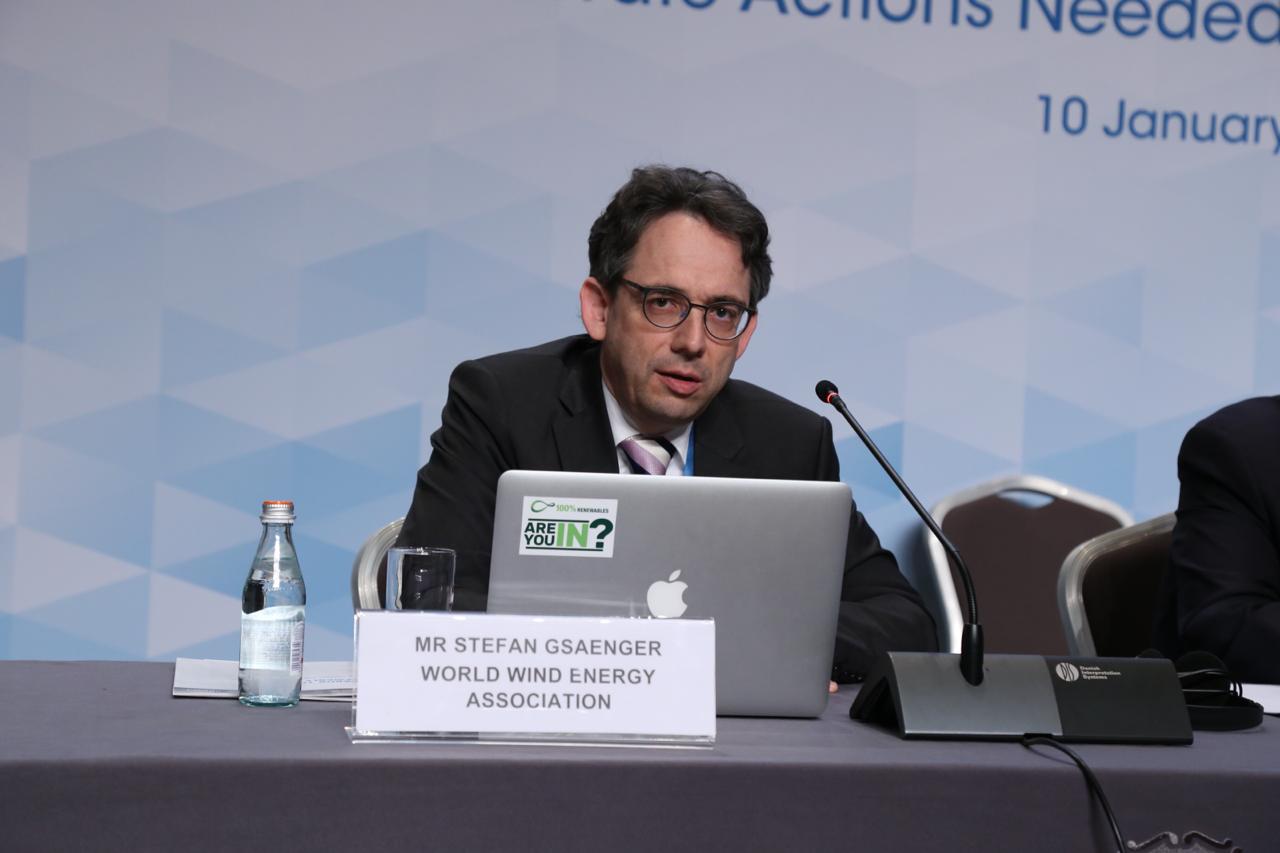 Community energy presents a good model, says WWEA's Stefan Gsaenger, in the Public-Private Dialogue In order to support community energy systems it is important to monetise the multiple benefits of community energy, provide loan guarantees to reduce finance risk, create innovative and flexible finance systems to capitalize contributions such as land and labour, support partnerships, and consider flexible, locally-appropriate payment systems.
---
---
21:10
Latest @IRENA Coalition for Action whitepaper -
'Towards 100% Renewable Energy'
- shows that ambitions are higher than ever, with over 50 countries and another 280 regions committing towards 100% renewables.
---
21:05
The Public-Private Dialogue has just kicked off, looking at actions needed by all actors to accelerate the energy transformation. In opening the session, the IRENA Director-General stressed the urgent pace of transformation needed, noting that despite positive developments the objectives of the Paris Agreement and Sustainable Development Goals require far greater ambition.
---
20:15
Latin America hosts some of the world's most dynamic renewable energy markets, with more than a quarter of primary energy coming from renewables, twice the global average.
Underway now in A2, high-level meeting on renewable energy in Latin America featuring a number of ministers from across the region. Key to the discussion, will be pathways to strengthened cooperation on renewable energy deployment offering policymakers an opportunity comment on the Regional Action Plan: Accelerating Renewable Energy Deployment in Latin America – a plan that identified key technical advisory and capacity building needs to help address barriers to renewables adoption.
IRENA Director-General sets the scene, saying:
"Ambitious targets and auctions are driving cost-effective deployment of renewables across the region to meet rising energy demand. Several countries from the region are moving into the top 10 renewable energy markets in the world."
Find out more about renewable energy in Latin America
---
20:09
A lively and engaging discussion in the
Africa Ministerial
highlighted the need to create a conducive investment climate for renewable energy. Delegations stressed the need to treat access to energy as a human right, and to its centrality to development across the continent. Find out more about the
renewable energy deployment in the region
---
19:52
Check out the regularly updated IRENA Flickr for pictures of the IRENA ninth Assembly.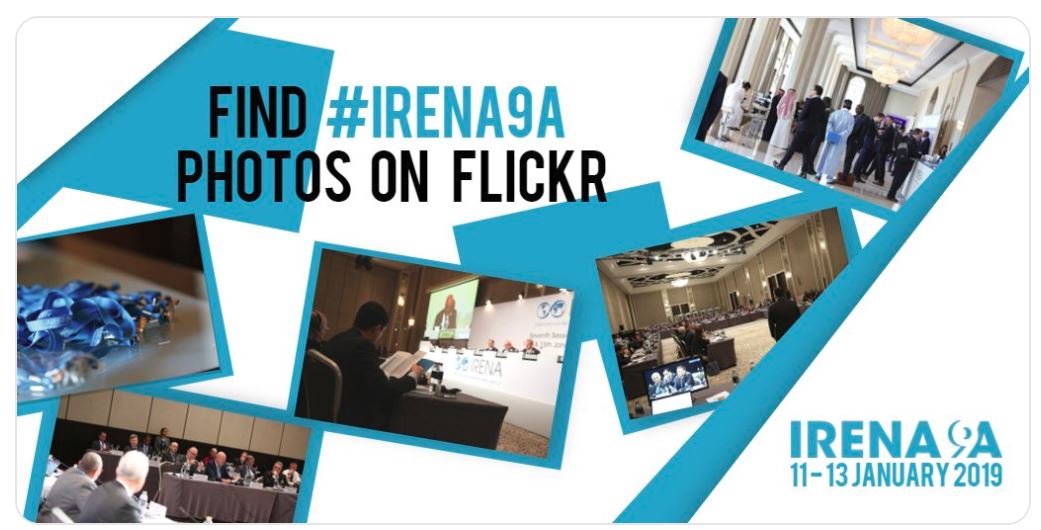 ---
19:29
First time ever, IRENA and State Grid Corporation of China (SGCC) partners on new joint study. "This is an example of successful public-private sector cooperation in development of impactful energy transition strategies" says IRENA's Innovation and Technology Director Dolf Gielen. The preview of the study indicates that the overall impact of RE-Electrification could reduce total energy sector emissions by 44% in 2050 – translating into 62% of total energy sector CO2 emission reduction needs.
---
---
18:53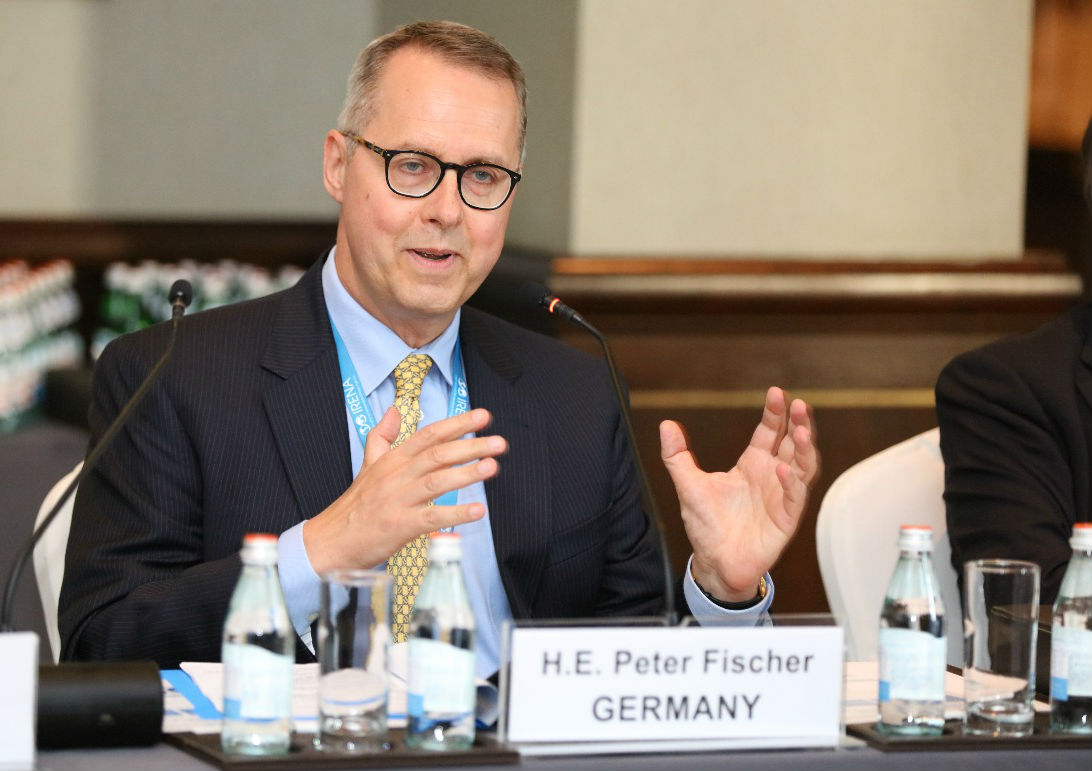 Germany's Ambassador to the UAE and Permanent representative to IRENA, Peter Fischer tells the 'Renewable Energy Solutions in Refugee Settings and Situations of Displacement' event participants that energy is a not a formal priority in humanitarian scenarios; displaced people are not included in improving energy access efforts; addressing energy access for displaced people is under-funded; capacity to address energy access to displaced people is limited; as is data.
---
---
18:47
There are around 68.5 million people displaced worldwide and among them are about 25.4 million refugees, of which over half are under the age of 18. The high costs experienced by the United Nations High Commissioner for Refugees (UNHCR) and other organisations in operating and maintaining refugee camps as well as for purchasing diesel for generating electricity through generators further underlines the necessity of delivering environmentally friendly, reliable and cost-effective solutions in of displacement.
In this regard, IRENA has been working with UNHCR to examine renewable energy solutions for the provision of access to reliable and affordable electricity to refugees, host communities and UNHCR operations. An event, Renewable Energy Solutions in Refugee Settings and Situations of Displacement, is exploring situation and addressing the current challenges that impede energy access in humanitarian settings towards the vision of "safe access to affordable, reliable, sustainable and modern energy services for all displaced people by 2030".
---
18:23
Delegates to the Africa Ministerial Session preview a video specially made for IRENA by Former State Secretary, German Federal Ministry for Economic Affairs and Energy, Rainer Baake. Mr. Baake visited Botswana, Namibia and Zimbabwe to examine the role that renewable energy is playing in driving the socioeconomic development of the region.
---
18:17
First time ever, IRENA and State Grid Corporation of China (SGCC) partners on new joint study.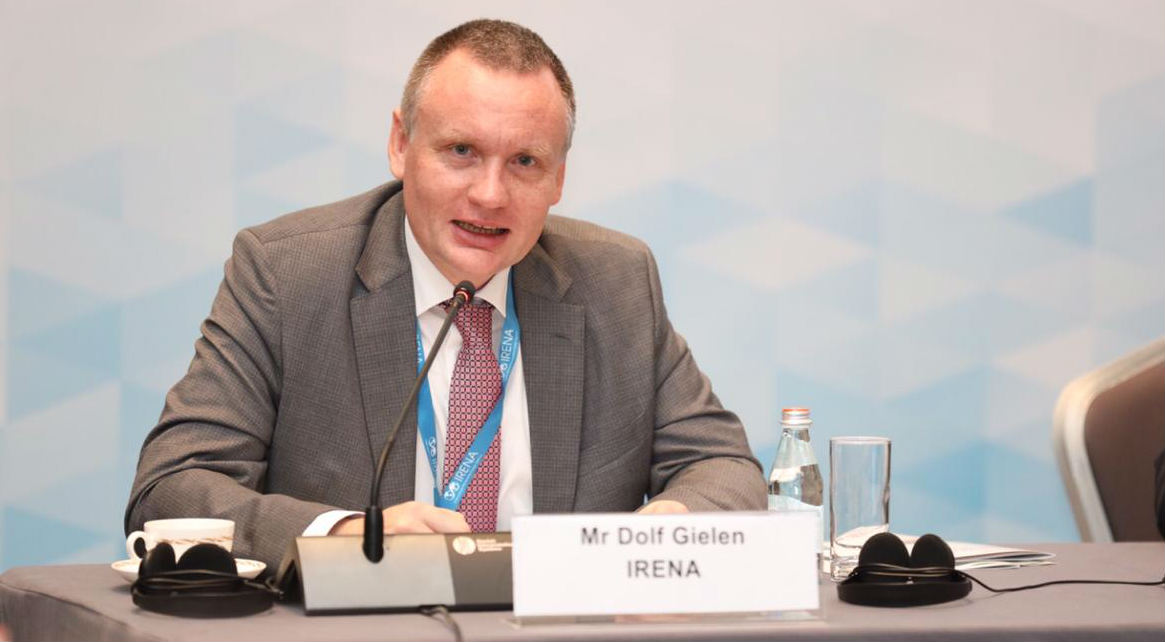 "This is an example of successful public-private sector cooperation in development of impactful energy transition strategies" says IRENA's Innovation and Technology Director Dolf Gielen.
---
18:07
At the African Ministerial the discussion on region's challenges and potential is in progress. Amadou Hott, VP African Development Bank said
"We are all aware of Africa's energy paradox. The country is endowed with vast energy resources, yet 600 million Africans lack electricity access. But there's reason to be hopeful. Countries are reaching record low renewable energy costs."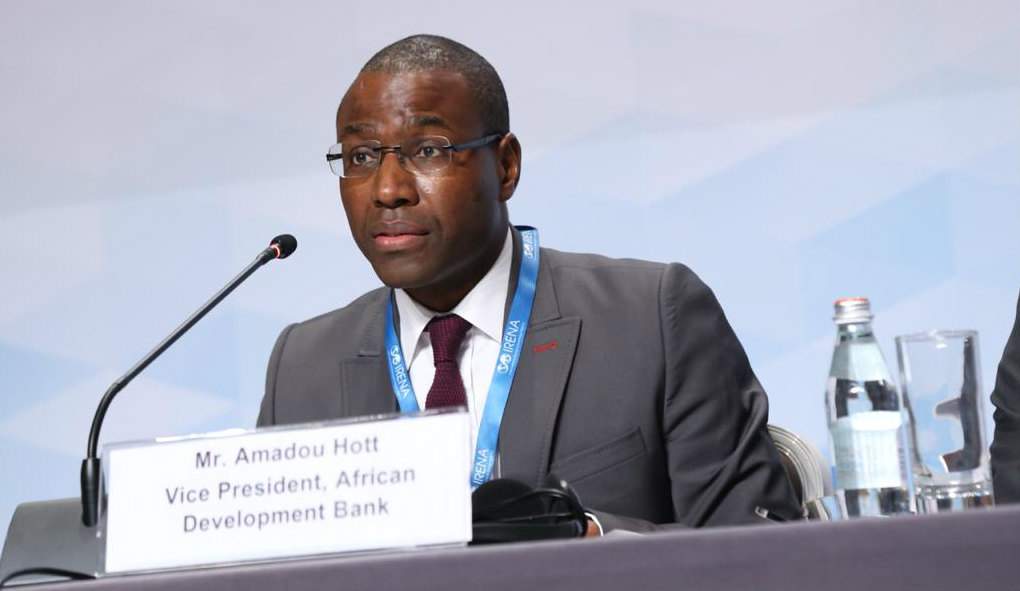 "Renewable energy is not only the right thing to do in the face of climate change. It is the right thing to do for business and creates tremendous economic opportunities that can transform the lives of all Africans" she added.
---
18:05
Starting now "The future is re-electrification" - Clean electricity will be greater and demand for clean electricity will be wider than ever before. A deep decarbonisation of the energy sector would require a 50% share of electricity in the total final energy consumption by 2050. This side-events will share experiences in electrifying end-use sectors through renewable electricity and provides a preview on a new report coming up in first half of 2019, a joint work between IRENA and the State Grid Corporation of China.
---
---
17:30
Taking place now is the Africa Ministerial Meeting, a gathering of African and international leaders to identify the opportunities and challenges of creating the energy system of the future, to meet Africa's rapidly-growing energy needs, drive business growth, and advance sustainable development. IRENA Director-General Adnan Z. Amin kicked off the meeting by noting that IRENA's data finds that renewable energy can deliver a quarter of Africa's energy needs by 2030.
---
16:25
"Energy resilience has become a major issue for the nations of the Eastern Caribbean States particularly in the face of strengthening weather conditions" – says Mrs Judith Ephraim Schmidt of the Organisation of the Eastern Caribbean States says as the opening ministerial discussion draws to a close.

The IRENA Director-General, Adnan Z. Amin concludes by stating that the participation of so many leaders in this meeting is a testament to the political intent in SIDS and signals an opportunity to build meaningful partnerships in the pursuit of renewables.
---
15:55
Speaking at IRENA's session on SIDS, the Minister of Environment in the Maldives, Hon. Hussain Hassan, said:
"Too much of our financial resources are being drained by volatile and expensive diesel imports for power generation, making our economies uncompetitive and hampering efforts to investment in renewables. In the Maldives, as much 10 per cent of GDP is spent on imports of diesel and carbon based fuel. We are committed to substantially increasing renewable energy capacity."
A reminder that renewables offer not only a climate safe path, but also a prosperous economic one for small islands all over the world.
---
15:52
Morning session of Legislators Forum closes with Bärbel Höhn, former Member of German Parliament, guiding discussions with focus on Africa, bridging the gap of access to energy. Parliamentarians refer to innovation in technologies, investment as well as business and financing models as critical for achieving universal energy access.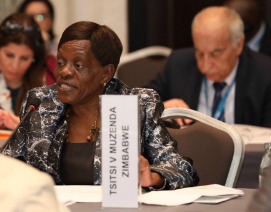 "Governments have to allocate more of the budget to energy access in rural areas. There is a lot of potential for renewable energy in Africa. We have to make us of it." underlined Tsitsi Muzenda, Member of Parliament of Zimbabwe.
---
15:35
Abdulmalik Oricha Ali from
IRENA's Global Atlas
team demonstrates how the Agency's rooftop simulator in development can from satellite images identify individual buildings' roofs and calculate potential energy output as well as costs. The simulator can be used to help determine investment costs for entire cities. The simulator is being trialed in cities in Uganda, China, and Costa Rica. More details about the urban challenges and need for solar simulators can be found in IRENA's brief
Solar Simulators: Application to Developing Cities
.
---
15:30
Just in: the new IRENA report on Solar Simulators in developing cities.
The report examines the evolution of solar PV simulators, from single-rooftop assessments at the household level to large-scale, aggregate-level analyses undertaken by municipal authorities and other large entities.
---
15:25
Small Island Developing States are on the frontlines of climate changes, and geographic challenges can make grid extension expensive and difficult. Renewable energy is proving to be one of the best ways to advance sustainable development in SIDS while fighting climate change.
---
15:12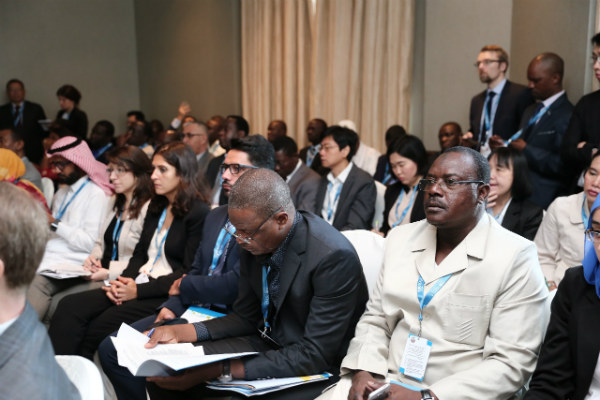 In a packed room, the back and forth discussion at the Solar Opportunities in Developing Cities event, explained how advances in satellite imagery has helped revolutionise the capabilities of solar energy prospecting. Suleiman Babamanu from the Rural Electrification Agency described how in Nigeria simulators are being used to help identify markets for cost-effective and price competitive solar rooftop energy access.
---
15:09
Yong Chen, IRENA's Regional Programme Officer for Asia and Pacific described how the Agency is assisting the Chinese city of Zhangjikou transition to renewable energy, in preparation for the 2022 Winter Olympic Games that will be held there. More details about that cooperation can be found
here
.
---
---
14:55
The high-level of participation at IRENA's SIDS Ministerial this morning demonstrates the degree of island commitment to moving away from fossil fuel based economies and towards renewables ones.
The President of Kirbati, Prime Minister of Tuvalu, Prime Minister of the Cook Islands, Vice President of Comoros, Deputy Prime Minister of Samoa and Minister of Energy and Water from Barbados join the IRENA Director-General to galvanise global action.
A clear message from Hon. Enele Sosena Sopoaga, Prime Minister of Tuvalu: "There is urgency for the whole world to reduce greenhouse gas emissions because there is no plan B. We need immediate action, funding and capacity development in SIDS to achieve our NDC goals."
---
14:50
Happening at the Legislators Forum:
How is the International Community doing in meeting its Sustainable Development Goal on Energy? Kandeh Yumkella, Member of Parliament in Sierra Leone and former Director-General of UNIDO and Special Representative of the UN Secretary-General for Sustainable Energy for All continues moderation. Legislators in the room agree that following SDG7 review at UN High-Level Political Forum last year, more action is needed. Renewable energy solutions are not only essential to realising SDG 7 but are also a key enabler for realising the 2030 Sustainable Development Agenda as a whole.
---
14:33
Topic being discussed at Legislators Forum right now: the business case for renewables against the backdrop of falling costs and technological solutions including off-grid renewables. Particularly off-grid renewables have witnessed a spectacular three-fold increase from under 2 gigawatts in 2008 to over 6.5 GW in 2017. Countries in Africa and Asia account for most of the growth over the past years, with more than 53 million people in Africa and 76 million in Asia now using such power sources.
Follow legislators' cooperation with IRENA through the Parliamentary Forum initiative.
---
---
14:26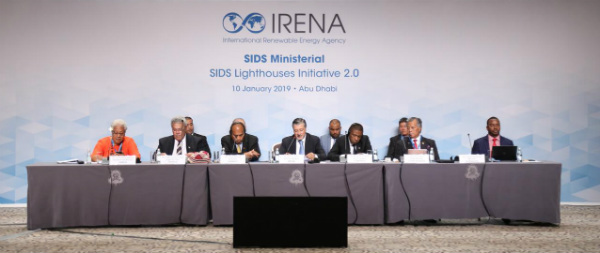 H.E. Taneti Maamau, President of Kiribati says the realisation of initial IRENA SIDS lighthouse targets was a remarkable achievement and acknowledges IRENA for its efforts to support this success, but urges entire renewables community to continue to do more in the face of climate change. The President also points out that renewables make clear economic sense for islands that remain dependent on fossil fuel imports, saying: "The costs of imported diesel can be a great burden on our national economy."
---
14:21
In the Solar Opportunities for Developing cities event, Godfrey Baluku Kime from the municipality of Kaese in Uganda, explained the energy challenges in his district and how solar rooftop can help power essential services. Kaese will be the first place that IRENA trials its rooftop simulator.
---
14:18
Lively discussion continues in Legislators Forum with strong call from policy-makers to accelerate energy transition and set the necessary policy frame. "There are many success stories in the area of renewables. By 2030, 73% of global population can have access to clean cooking. To bridge the gap a proper policy frame is needed" says Senator Gabriela Cuevas-Barron, President from the Inter-Parliamentary Union (IPU). ClaudeTurmes, Energy Minister from Luxembourg and former Member of European Parliament adds, "we are losing out on climate change. It's all about 100% renewables as soon as possible. For this we need frontrunners. And we need the markets and make use of all technologies available"Claude Turmes, Energy Minister from Luxembourg said.
---
---
14:00
About to get underway in room A1, IRENA's SIDS Ministerial will build on the priority areas identified for the next phase of the SIDS Lighthouses Initiative. The session will provide an opportunity for Heads of State and Ministers from islands across the world, to discuss challenges, opportunities and practical solutions to accelerate energy transformation in SIDS.
---
13:41
Starting now in room B1, is IRENA's session on 'Solar Opportunities for Developing Cities' which is exploring solar opportunities for developing cities. The event will offer an opportunity for IRENA Members and key stakeholders to learn about the potential policy design use cases and benefits of deploying rooftop simulators.
The event will be highlighting successful examples where these simulators have been used to benefit the urban planning process and discuss IRENA's ongoing efforts to demonstrate a rooftop solar simulator in two cities in developing countries.
---
13:25
"Adopting #SDG7 as part of the 2030 Sustainable Development Agenda was a significant milestone. It is the first global goal on energy. Parliamentarians can make an important contribution to advance this agenda" - IRENA's @AdnanZAmin opens 4th Legislators Forum #IRENA9A9 Pre-Assembly
---
10:35
The IRENA Director-General, Adnan Z. Amin has closed the High-level Meeting on Latin America:
"We are facing an emerging paradigm of energy that is going to change dramatically and over the next ten years can potentially be disruptive. International cooperation is the key for a global and just energy transition. There must be no winners and no loser, and this spirit represented today's discussion."
---
12:00
Pre-Assembly Day starts with the Legislators Forum
Over 1200 delegates from 160 countries gather in Abu Dhabi today to reaffirm the global renewable energy agenda and make concrete steps to accelerate the global energy transition.
The Pre-Assembly Day kicks of with Legislators Forum. Parliamentarians are at the frontline of finding solutions to improve lives of their constituents and play an increasingly significant role in supporting the uptake of renewable energy. They are central to setting policy and regulatory frames for renewables, designing long-term development strategies, ensure the necessary budget to help accelerate the energy transition and raise awareness with the public.
Through the Legislators Forum, IRENA has been engaging with key members of parliament around the world showing interest in renewable energy and its interlinkages with socio-economic development, technology, policy and finance. This year's debate focused on parliamentary actions to accelerate the energy transformation and implement UN's Sustainable Development Goal on Energy (SDG7).
---