A renewable energy future for the Gulf? – COP 18 Qatar joins Global Atlas for Renewable Energy Resources
Qatar signing event: 4 December, 12.30, Press Conference Room 1
GCC Side Event: 4 December, 20:15-21:45, COP 18 Room 4 Hall 5
International experts and representatives from the six Gulf Cooperation Council (GCC) countries will chart the region's growing strategic focus on renewable energy, at a key COP 18 side event hosted by Saudi Arabia, IRENA, and the Fraunhofer Institute for Solar Energy Systems.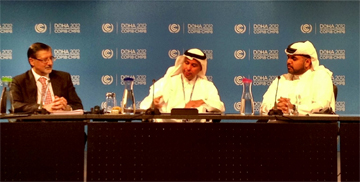 Adnan Z. Amin, IRENA Director-General, Issa Shahin Al-Ghanim, Director Strategic Planning and Policy, Qatar Petroleum Fahad Bin Mohammed Al-Attiya, Chairman of the Qatar National Food Security Programme
H.E. Issa Shahin Al Ghanim, Director of Strategic Planning and Policy of Qatar Petroleum and H.E. Fahad Bin Mohammed Al Attiyah, Chairman of the Qatar National Food Security Programme, will also sign a Statement of Interest to contribute to IRENA's groundbreaking Global renewable energy Atlas, at midday on December 4.
Both events highlight accelerating progress towards harnessing the Gulf's vast solar and other renewable resources, in order to meet growing domestic demand and to promote sustainable energy use. Nearly all GCC countries have set renewable energy targets, and a growing number of large-scale solar projects are being developed across the region.
"Across the Gulf, governments and businesses are turning towards renewable energy – with potentially transformative effects," said Adnan Z. Amin, IRENA Director-General. "The vision shown by Qatar, the UAE, Saudi Arabia and other GCC countries sends a powerful message: investing in renewable energy makes clear economic sense today, and has enormous potential for the future."

The meeting will show how investment in renewable energy offers Gulf countries a pragmatic path to reducing per capita CO2 emissions, currently amongst the highest in the world. It will also show how renewable energy bolsters the entire value chain – from research and development, to manufacturing, to on-the-ground power projects.
IRENA is also releasing its newest set of "Renewable Energy Country Profiles" for the Middle East, the latest in a series of regional profiles that include Africa, the Pacific, Latin America and the Caribbean.
Note to editors:
IRENA is mandated by 158 countries and the European Union to promote the sustainable use of all forms of renewable energy, and to serve as the global hub for renewable energy cooperation and information exchange. Formally established in 2011, IRENA is the first major international organization to be headquartered in the Middle East.
For further information please see the IRENA website (www.irena.org) or contact Mark Turner on +971 554 936 813, mturner@irena.org..