Whatever Happens in Paris: Four Reasons Why the Future Will Be Fueled by Renewable Energy
(This article originally appeared in The Huffington Post Green on 11 November, 2015.)
More than 60 ministers gathered in Paris over the last three days to help shape the outcome of climate negotiations this December. Regardless of what appears in the final agreement, however, it is already clear that a low carbon future will be fueled by renewable energy.
Here's why:
1. It's the only way: 2015 is shaping up to be the hottest year in recorded history and momentum is building to address climate change. Countries accounting for 90 per cent of global CO2 emissions have submitted their climate action plans in advance of the Paris negotiations, but there is a gap between what governments have committed to do, and what needs to be done to keep temperature rise below the agreed maximum limit of 2°C. The energy sector accounts for some two-thirds of all global emissions. Renewable energy and increased energy efficiency are the only technologies that can be deployed fast enough and at sufficient scale to close this gap in time.
2. It's the least-cost option: Renewables are the most affordable sources of power in many parts of the world, and are becoming more so all the time. Just since the Copenhagen climate conference in 2009, solar PV panel costs have plummeted a staggering 75 per cent. Onshore wind is now one of the most competitive sources of electricity available with some projects now delivering electricity for as little as $5 cents per kilowatt hour. Biomass, geothermal, hydropower and onshore wind are all cost competitive with coal, oil and gas-fired power stations, even in the absence of financial support and despite falling oil prices. In contrast, fossil fuels are becoming more difficult and expensive to extract, and external costs such as pollution and health costs are increasingly being taken into account. When accounting for the cost of pollution, including ill health, environmental degradation and CO2 emissions, doubling the global share of renewable energy would results in savings of up to $740 billion per year by 2030.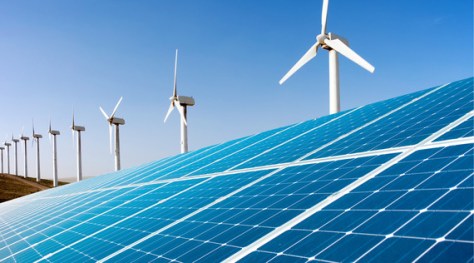 3. Marshall Islands for example, brought clean energy to more than 95 per cent of its remote, outer island communities, thanks to the installation of stand-alone solar PV systems. Bangladesh's solar home system programme has also deployed 3.6 million units benefiting more 20 million people. Beyond access, renewable energy also creates jobs, dramatically reduces air pollution and boosts GDP growth through lower costs, development of domestic industries and local value creation.
4. The transformation is already underway: Renewable power capacity has accounted for more than half of capacity additions in the global power sector since 2011. More than 130 countries have already committed to a long-term goal of decarbonisation. Companies such as IKEA, Johnson & Johnson, H&M, Nike and Nestlé have joined the RE 100 initiative, all of whom are making commitments to go 100% renewable. And new commitments are being announced daily.
All of these actions have one thing in common: decisions were taken because renewable energy is not only good for the climate, it is good for the economy, for the job market, and for people. It helps explain why renewables are now the world's second largest source of electricity after coal - ahead of gas, oil and nuclear power.
It is now not a question of 'IF' the world ultimately transitions to a renewable energy future, but rather whether it will do so quickly enough. The energy choices we make in the next few years will determine whether we are able to close the emissions gap, and in so doing secure a livable climate where our children and future generations can thrive.
This December, for the first time at any UN climate conference, renewable energy solutions will take centre stage. During a series of high profile events and proceedings, renewable energy will be showcased as the fastest, cleanest, most reliable and most economically beneficial way to meet our climate goals.
Whatever comes out of Paris, one thing is sure: the future belongs to renewable energy.