IRENA and SELCO Foundation (2022), Fostering Livelihoods with Decentralised Renewable Energy: An Ecosystems Approach, International Renewable Energy Agency, Abu Dhabi.

Copied

/-/media/Files/IRENA/Agency/Publication/2022/Jan/IRENA_Livelihood_Decentralised_Renewables_2022.pdf?rev=7f7ca5cd9eea443483dea7987ef952e9

Copied
Fostering Livelihoods with Decentralised Renewable Energy: An Ecosystems Approach
This brief discusses the 'ecosystem' necessary for linking electricity services through decentralised renewable energy with people's livelihoods.
Decentralised renewable energy solutions linked to livelihoods is an important step in maximising the benefits of energy access for socio-economic development. Renewables offer the opportunity to translate investments in electricity connections and kilowatt-hours into higher incomes for communities and enterprises, local jobs, greater adaptive capacity and overall well-being.
Achieving this transformative change requires greater efforts than simply deploying decentralised systems. It requires investing in an 'ecosystem' that positions the diversity of people's livelihoods at the centre of energy access efforts and delivers tailored energy solutions, the financing, capacity and skills, market access and policy support to realise the full benefits of energy access.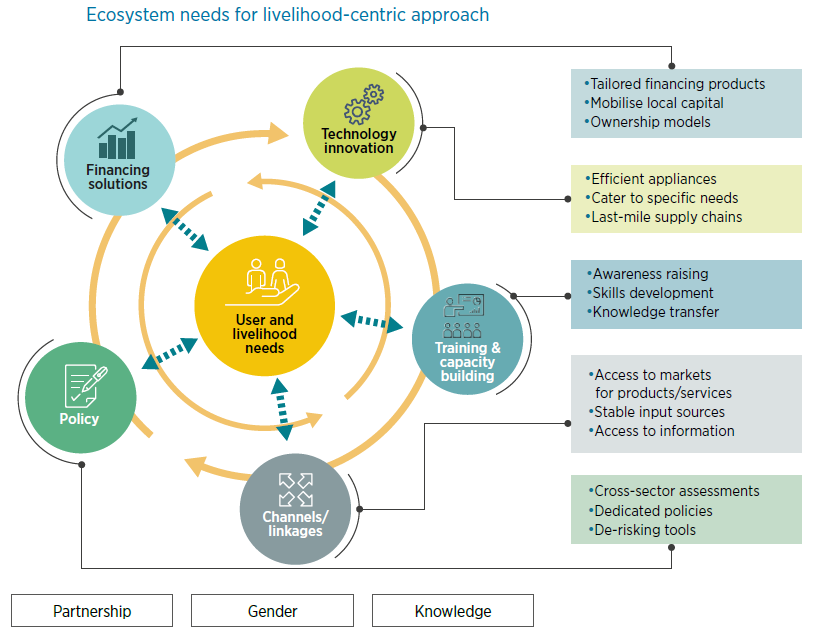 This brief jointly developed by IRENA and SELCO Foundation discusses how energy access programmes and initiatives are tackling the various ecosystem components to sustain and strengthen existing livelihood activities or facilitate new ones. Building on case studies and examples from different regions and contexts, the brief identifies five key action areas:
Consider productive end uses in energy access plans and strategies
Mobilise accessible, affordable financing for end-users and enterprises
Support technology innovation and adaptation processes
Expand incubation support and skills development
Mainstream gender across the ecosystem
Investing in an enabling ecosystem will yield long-term socio-economic dividends underpinned by sustainable livelihoods. It would also advance efforts to achieve the 2030 Agenda, stimulate a more inclusive recovery from the COVID-19 pandemic and contribute to a more just energy system.