ADFD Approves USD25 Million for Solar PV Projects in Mauritius and Rwanda
Projects selected via IRENA/ADFD Project Facility will support poverty alleviation through renewable energy.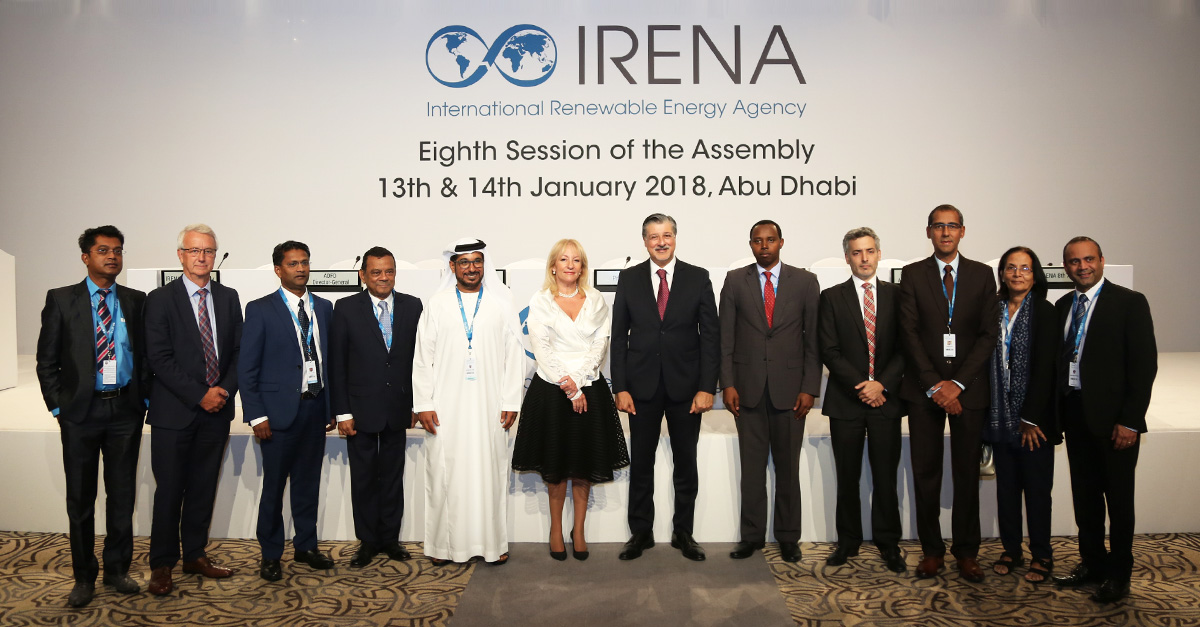 Abu Dhabi, United Arab Emirates, 13 January 2018 – Abu Dhabi Fund for Development (ADFD), the leading national entity for development aid, and the International Renewable Energy Agency (IRENA), the global platform for international cooperation on renewable energy, today announced that USD25 million in concessional loans from ADFD have been earmarked for two solar PV projects, one each in Mauritius and Rwanda.
Announced at the Eighth Session of the IRENA Assembly, both projects – beneficiaries of the fifth funding cycle – are being financed through the IRENA/ADFD Project Facility. Established in 2013, this seven-cycle Facility offers USD350 million in consessional loans from ADFD to help developing countries access low-cost capital for renewable energy projects.
The projects have the potential to significantly transform the lives of over 2.5 million people and alleviate poverty by bringing affordable energy to low-income communities. Renewable energy can positively impact the whole sustainable development spectrum in terms of improved health and education outcomes, better livelihoods and working conditions, and lower air pollution. The loans cover up to 50% of project costs, leveraging additional funding from other sources. Since 2014, ADFD has allocated USD214 million to 21 projects, attracting over USD420 million in additional co-financing from governments and development funds.
"For developing countries, renewable energy is a triple win: it provides a cost-effective means of providing electricity to families, fuels economic growth, and supports energy independence and security," said IRENA Director-General Adnan Z. Amin. "However, many developing countries have trouble accessing financing for renewable energy investment. We are delighted that our continued partnership with ADFD will provide a stable, low-cost source of financing to help Mauritius and Rwanda achieve a sustainable energy future."
His Excellency Mohammed Saif Al Suwaidi, Director General of ADFD, said: "Our collaboration with IRENA articulates ADFD's core mandate to support sustainable economic and social progress across developing countries through financing development projects that serve vital economic sectors. ADFD priorities renewable energy as a catalyst for inclusive economic and social development."
He added: "At ADFD, we believe that through the widespread promotion of sustainable energy projects in countries with immense clean energy potentials, we can contribute to the long term economic prosperity of communities across the word. We are confident that the latest projects selected for funding in Mauritius and Rwanda will deliver sizeable benefits for the economies of local communities."
In Mauritius, the ADFD loan of USD10 million will help the Central Electricity Board install solar PV systems on rooftops of 10,000 households as part of the government's efforts to alleviate poverty whilst contributing to the national target of achieving 35% of renewable electricity in the energy mix by 2025. An estimated 35,000 people in low income communities will benefit from significant electricity bill savings. The project will bring 10 megawatts (MW) of new renewable energy capacity online, resulting in savings of over USD 35 million in fossil fuel imports over the project lifetime and improvements in the energy security of the country.
In Rwanda, the ADFD loan of USD15 million will contribute to the installation of 500,000 off-grid solar PV home systems across the country, providing clean electricity for lighting, mobile phone and radio charging. The project is a major part of the government's rural electrification strategy and is one of the most affordable payment schemes in Africa. It employs a flexible mobile payment platform, essential in areas poorly served by banking and transportation infrastructure. 2.5 million people in rural communities are expected to benefit from improved electricity acccess, and more than 2,000 local jobs will be created.
Thanks to the IRENA/ADFD Project Facility, almost 120 MW of renewable energy capacity will be brought online to support increased energy access, improved livelihoods, and cleaner air quality.
Applications for the sixth cycle of funding are now open until 17:00 GST on 15 February, 2018. Visit www.irena.org/adfd to learn more.