SIDS to Align Renewables Ambition with Recovery Efforts to Rebuild Economies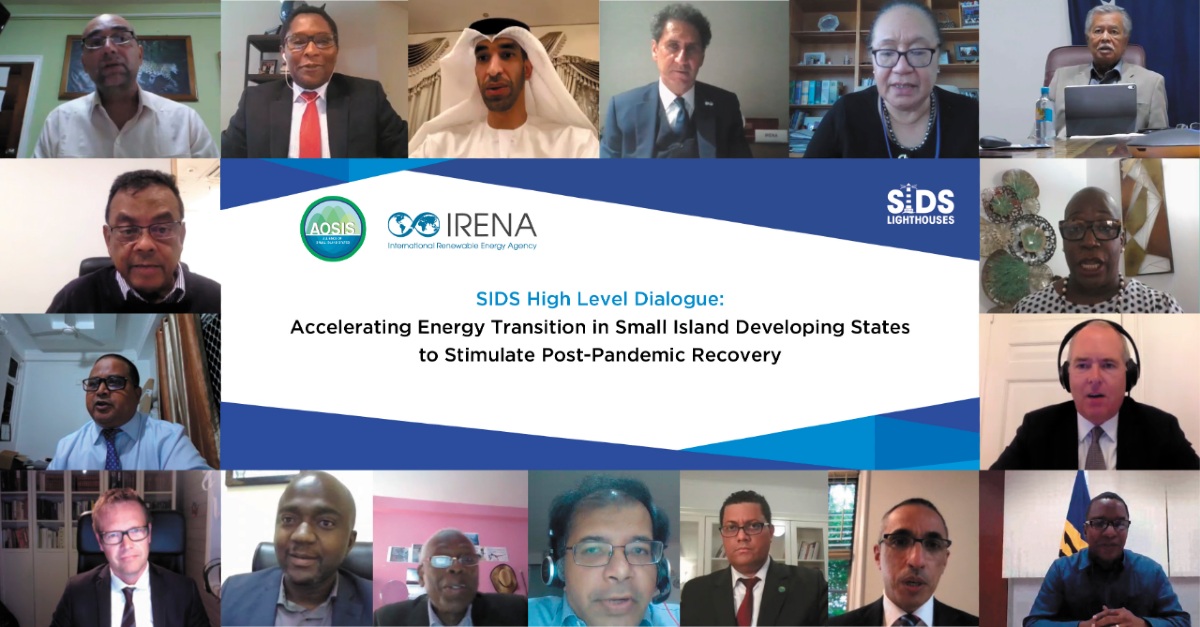 New York, United States of America, 1 June 2020 — The Government of Belize, in its capacity as Chair of the Alliance of Small Island States (AOSIS) and the International Renewable Energy Agency (IRENA), co-hosted a virtual High-level Dialogue on Accelerating Energy Transition in SIDS to Stimulate Post Pandemic Recovery. The meeting featured Small Island Developing State (SIDS) Heads of Government and Ministers, together with representatives of development partners, international organisations and international financial institutions.
This virtual High-Level Dialogue was moderated by Mr. Selwin Hart, Special Adviser to the UN Secretary-General and Assistant Secretary-General for the Climate Action Team, and opened by the AOSIS Chair and Belize's Minister of the Environment, Honourable Dr. Omar Figueroa and IRENA Director-General, Francesco La Camera.
The Ministers underscored the challenges associated with financing aggressive energy transformation which has been compounded by the economic downturn resulting from COVID-19. They affirmed their commitment to press forward and noted the economic and social benefits particularly in the context of recovery efforts, that renewable energy transformation can yield for their people and economies. Ministers emphasised the pressing urgency for strong and coordinated international cooperation in the next months to mobilise the capital necessary to help SIDS achieve long-term energy transition goals and recover better and stronger.
"SIDS need assistance to overcome persistent obstacles, such as legal and regulatory barriers. We need access to finance at the scale required, and the necessary training and technology for sustained human and institutional capacity," said Honourable Minister Figueroa during the High- level event. "In addition to strengthening capacity, we need more large-scale investments in the renewable energy sector to supplement the fiscal resources available, in order to scale up deployment of renewable energy."
IRENA Director-General Francesco La Camera said: "For small island developing states, renewables represent an opportunity to build more resilient and prosperous economies and societies. While the renewable energy progress and ambition among SIDS remains strong, there is a clear need for collection action from the international community to support the acceleration of this progress. As small islands rebuild following this pandemic, IRENA will strengthen its work to put secure and sustainable energy systems at the cornerstone of the recovery."
AOSIS recently concluded the Placencia Ambition Forum (PAF), which called for immediate, enhanced action to support SIDS energy transition, and highlighted specific areas where action could be targeted for such support. It made clear the case for a green recovery that strengthens SIDS resilience to the adverse impacts of climate change and to crises such as the COVID-19 pandemic.
One area that can bring immediate results is through the NDC process. As SIDS finalize the elaboration of ambitious NDCs, they can benefit from the alignment of recovery efforts with enhanced renewable energy targets. Development partners can facilitate this process through co-ordinated implementation efforts and financial support .
This High-Level Dialogue offered a platform for SIDS governments and development partners to reflect on effective means to reinforce actions towards accelerating energy transformation and ensuring energy security of SIDS, while aligning the pandemic response with the sustainable development and climate objectives.
To learn more about the High-level Dialogue contact islands@irena.org, follow AOSISChair for regular updates and engage using #SIDSLead on Twitter.