IRENA and ADFD Further Cement Partnership on Renewable Energy Finance
Joint action continues to distribute USD 350 million in loans to renewable energy projects in developing countries
Abu Dhabi, United Arab Emirates, 08 February 2015 – Mr. Adnan Z. Amin, Director-General of the International Renewable Energy Agency (IRENA) and H.E. Mohammed Saif Al Suwaidi, Director-General of the Abu Dhabi Fund for Development (ADFD), met today at IRENA Headquarters to discuss the achievements of the joint IRENA/ADFD Project Facility and to further cement future collaboration.
The Project Facility has allocated USD 98 million in project funding over its first two cycles and will provide an additional USD 252 million in its remaining five cycles. This represents a total project value of more than USD 800 million as the facility mobilises other funds that will more than double the original investment amount.
"The partnership between IRENA and ADFD brings funding to the places where it can have the most impact and where financing is one of the greatest challenges," said Mr. Amin. "Thanks to the innovative and replicable projects funded in the second cycle alone, 280,000 people in rural communities will have access to clean, renewable power. IRENA is committed to continuing and strengthening our relationship with ADFD so this level of achievement can continue."
"Renewable energy plays a central role in our efforts to provide efficient and affordable access to energy for developing countries to accelerate their economic and social development through sustainable means," said H.E. Mohammed Saif Al Suwaidi. "ADFD's strategic collaboration with international agencies like IRENA articulates our priority to leverage the potentials of emerging technologies for the economic empowerment of developing countries and reduction of international poverty. We believe that developing countries today stand to make significant gains from the rapid adoption of clean energy in the global energy mix, while achieving their development priorities like never before."
Projects approved for funding to date include solar, hydropower, geothermal, biomass, wind and hybrid projects in Ecuador, Mali, Maldives, Mauritania, Samoa, Sierra Leone, Argentina, Cuba, Iran and St. Vincent and the Grenadines. The projects will together add 56 megawatts of renewable energy to the global energy mix through transformative, innovative, and replicable or scalable projects.
The IRENA/ADFD Project Facility aims to advance renewable energy in communities where it can have the greatest impact. By funding projects with social, economic and environmental benefits, the programme demonstrates that renewable energy goes hand-in-hand with sustainable development.
The third funding cycle of the Project Facility is open until 18 February for project proposals, with concessional loan interest rates of 1-2 per cent. These new, lower rates will support an even broader range of renewable energy projects throughout the remaining five loan cycles. IRENA and ADFD will continue to work together closely to improve support to developing countries in each cycle.
For more information visit: www.irena.org/adfd
ADFD project videos: http://adfd.irena.org/Projectselected.aspx
Press release announcing second cycle recipients: http://ow.ly/IwVpd
Press release announcing first cycle recipients: http://ow.ly/IwVuo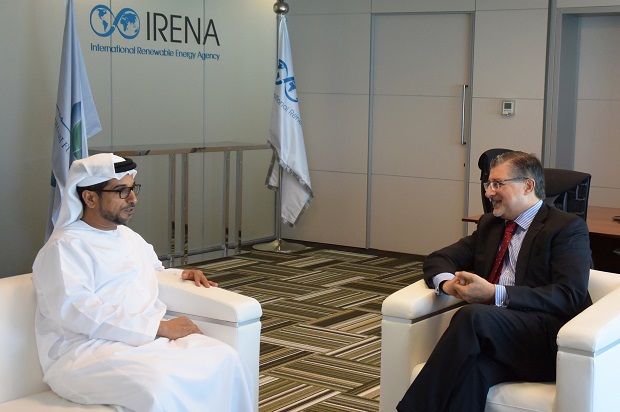 IRENA Director-General Adnan Amin (right) and ADFD Director-General H.E. Mohammed Saif Al Suwaidi (left)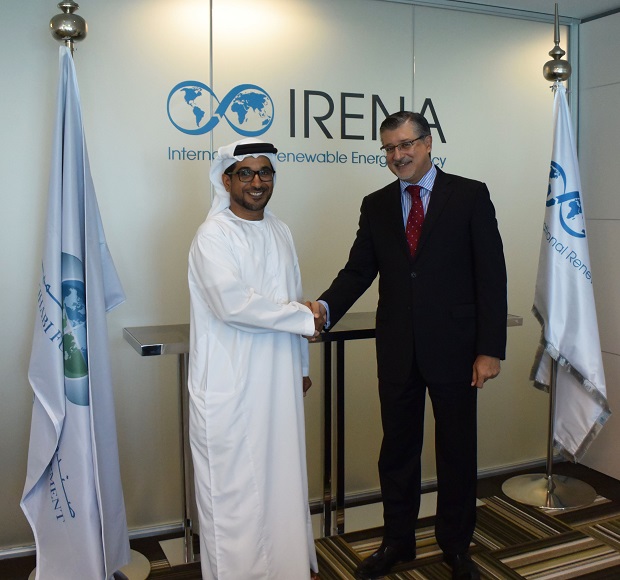 IRENA Director-General Adnan Amin (right) and ADFD Director-General H.E. Mohammed Saif Al Suwaidi (left)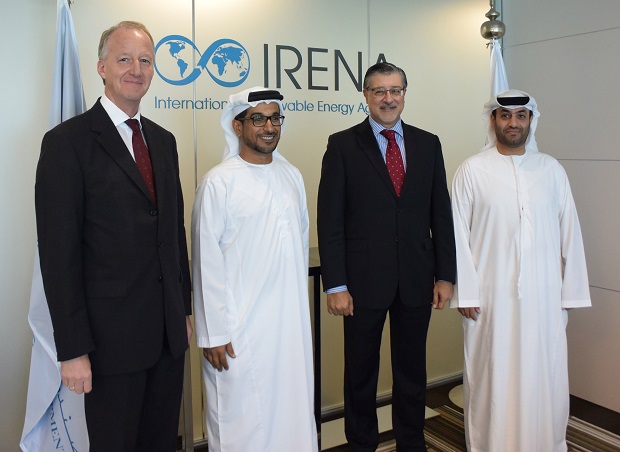 From left to right: Henning Wuester, IRENA Director of Knowledge, Policy and Finance; ADFD Director-General H.E. Mohammed Saif Al Suwaidi; IRENA Director-General Adnan Amin; ADFD Director of Operation Adel Abdulla Al Hosani