IRENA Head Meets UN Secretary-General to Further Renewable Energy Expansion
New York, United States of America, 1 August 2015 – Mr. Adnan Z. Amin, Director-General of the International Renewable Energy Agency (IRENA) and Mr. Ban Ki-moon, Secretary-General of the United Nations, met at the UN Headquarters in New York to discuss the rapid scale-up of renewable energy and its vital role at the upcoming UN Climate Change Conference (COP21) in Paris in December.
The two discussed plans for COP21's renewable energy day, as well as IRENA's initiatives to expand renewable energy on islands (Lighthouse Initiative), in Africa (the Africa Clean Energy Corridor), and to speed the growth of geothermal energy worldwide (the Global Geothermal Alliance).
The Secretary-General expressed admiration for IRENA's growth in its first five years, which is a testament to the world's commitment to renewable energy. Since its foundation in 2009, the Agency's membership has grown to 142 Member States and the European Union, with 29 more countries in the process of accession.
"The support of the United Nations and its leadership has been an important component of the rapid growth and success of IRENA to date," said Mr. Amin. "We look forward to strengthening the partnership to support countries in their transition to a climate-safe, clean energy future."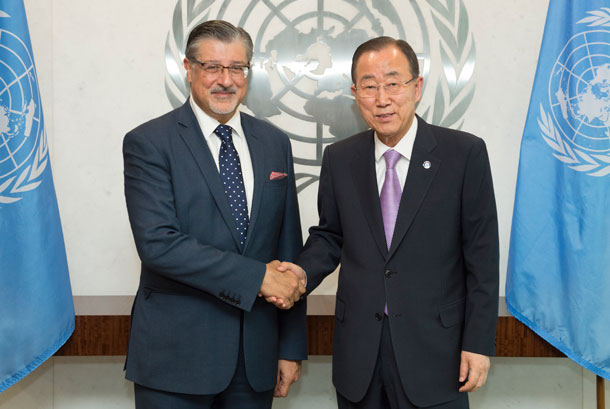 Left to right: IRENA Director-General Adnan Z. Amin and UN Secretary-General Ban Ki-Moon at UN Headquarters in New York
More on the IRENA Lighthouse Initiative: Here
More on the Africa Clean Energy Corridor: Here
More on the Global Geothermal Alliance: Here