IRENA Joins Global Leaders on the Front Line of the Battle to Limit Climate Change
It was billed as a day of action. Parties without concrete, actionable plans and commitments stayed away from a meeting that the UN Secretary General and wider community believed could be the most important climate meeting since Paris in 2015. Leaders who brought announcements to the Climate Action Summit effectively represented the world's front line in the battle to stay within the 1.5°C of warming.
The International Renewable Energy Agency participated. Director-General Francesco La Camera joined heads of state and leaders from business and civil society in reinforcing a unified and immediate response to the climate emergency. In an address to delegates, Mr. La Camera reiterated the Agency's support for the world's most vulnerable nations including small island developing states (SIDS) and reminded attendees that it's possible to limit warming if we invest in the energy transition.
"It's possible to secure justice for SIDS who, along with least developed countries, are the most threatened [by the effects of a warming planet], despite having contributed nothing to climate change," said Mr. La Camera. While SIDS have shown climate leadership through 100% renewable energy ambitions, realizing these ambitions is critical – something the Agency pledged to continue supporting. "IRENA stands with SIDS in this effort," he continued "including through the SIDS Lighthouses initiative which received a new injection of financial support from Denmark, Germany, Norway and the UAE."
Furthermore, the Director General presented the recently launched Climate Investment Platform. "It's possible to mobilize financial resources for the change," he said. "The recently launched Climate Investment Platform will be inclusive, well-articulated, proactive and agile in supporting SIDS and other developing countries access the capital necessary to respond. It will also facilitate private sector engagement to accelerate the energy transition, and scale-up a low-carbon resilient economic future for islands."
The day began with a powerful opening message from youth climate activist Greta Thunberg. She rallied the Summit telling the global community, "How dare you put my future in jeopardy. How dare you to turn to young people to solve the problems you created. We [the next generation] are watching you."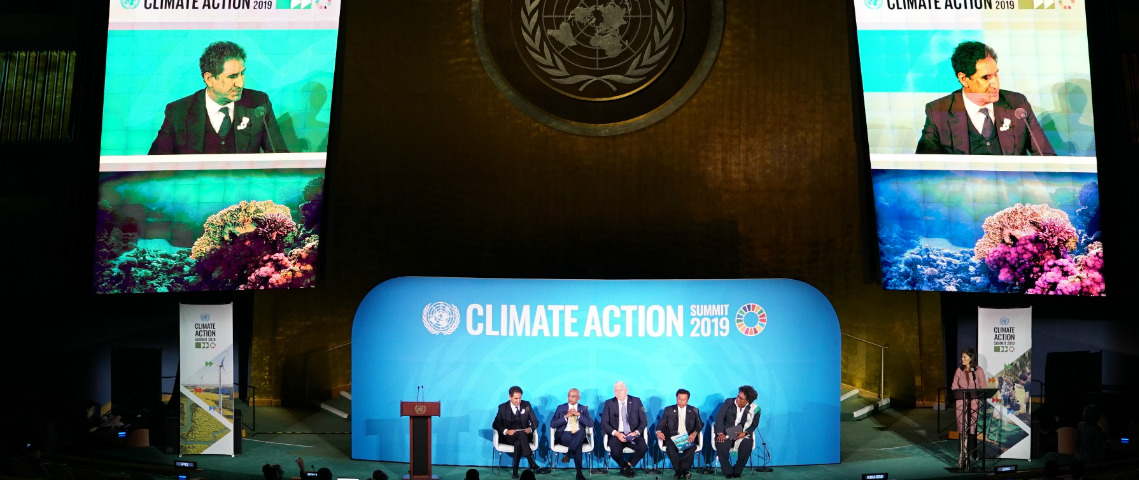 UN Secretary General said, "Nature is angry and we fool ourselves if we think we can fool nature. Our Earth is issuing a cry: "STOP". The climate crisis is caused by us, and the solutions must come from us to cut greenhouse gas emissions."
Marshall Islands President Hilda Heine said the time has come for "leaders to lead". Leaders responded.
New Zealand Prime Minister Jacinda Arden said her country aims for 100 per cent renewable electricity by 2023 as part of their climate response package. She says it's not just about avoiding the worst but building the best future possible.
Michael Bloomberg reported that due to the anti-coal lobbying, the USA had closed nearly 300 coal power plants since 2011 and his coalition would not stop until every remaining plant was closed. Orsted CEO Henrik Poulson said his company would stop using coal altogether by 2022 and by 2025 the company's production will reach carbon neutrality.
The day proved beyond doubt that it is possible to mitigate catastrophic climate change and that the political will exists to take meaningful and immediate action. But "we have to do more," Mr. La Camera reminded attendees, "IRENA is ready to act."