IRENA Outlines 10-point Roadmap to Renewable Energy Growth in the Republic of Moldova
The Republic of Moldova may be one of Europe's smaller economies but the country is big on renewable energy potential. According to an International Renewable Energy Agency (IRENA) report in 2017, the cost-competitive potential for solar and wind energy alone across the country totalled more than 22 gigawatts (GW), and wind energy potential is among the most attractive across South East Europe.
The country's energy policymakers are increasingly wise to this opportunity. New support measures for variable renewables have been introduced to stimulate further activity in the sector and national objectives to cover at least 17 per cent of gross final energy consumption with renewables have been met ahead of time. Recently, an additional 168 megawatts (MW) of renewable energy capacity was announced.
In this context IRENA Director-General Adnan Z. Amin said Republic of Moldova's policy makers are recognising that renewable energy can be a important means to address the country's energy challenges and achieve a sustainable future through renewables. Gurbuz Gonul, Director of Country Support and Partnerships at IRENA, shared the view saying renewables can be a central pillar of national energy and economic policy in the country: "The Republic of Moldova has a promising opportunity to improve its domestic energy security and support economic growth by implementing a clear and long-term renewable energy programme," said Mr. Gonul.
Despite this, Republic of Moldova remains heavily import dependent for its energy. Today, almost 70 per cent of the country's primary energy supply comes from imports and only 18 per cent of its electricity needs are generated domestically. This presents not only economic challenges but also adversely affects the country's energy security given its vulnerability to supply disruption.
"Today, almost 70 per cent of the country's primary energy supply comes from imports and only 18 per cent of its electricity needs are generated domestically."
IRENA's new Renewables Readiness Assessment (RRA): Republic of Moldova report developed in close cooperation with the Government of the Republic of Moldova, in the context of IRENA's South East Europe Initiative, outlines the steps necessary to set the country on an accelerated path to renewable energy development. It highlights that while the deployment of renewables – beyond biomass in the heating sector – has so far been limited, recently introduced support schemes for renewable electricity have piqued the interest of the country's business community. Further measures are required, however, to build on this promise – fact recognised at the highest level in the country.
Mr. Chiril Gaburici, Minister of Economy and Infrastructure in the Republic of Moldova said the Republic of Moldova is "crying out" for a greater share of renewable energy in its mix, noting that in a country reliant on imports for three quarters of its energy needs, implementation of a renewable energy strategy has "tremendous importance".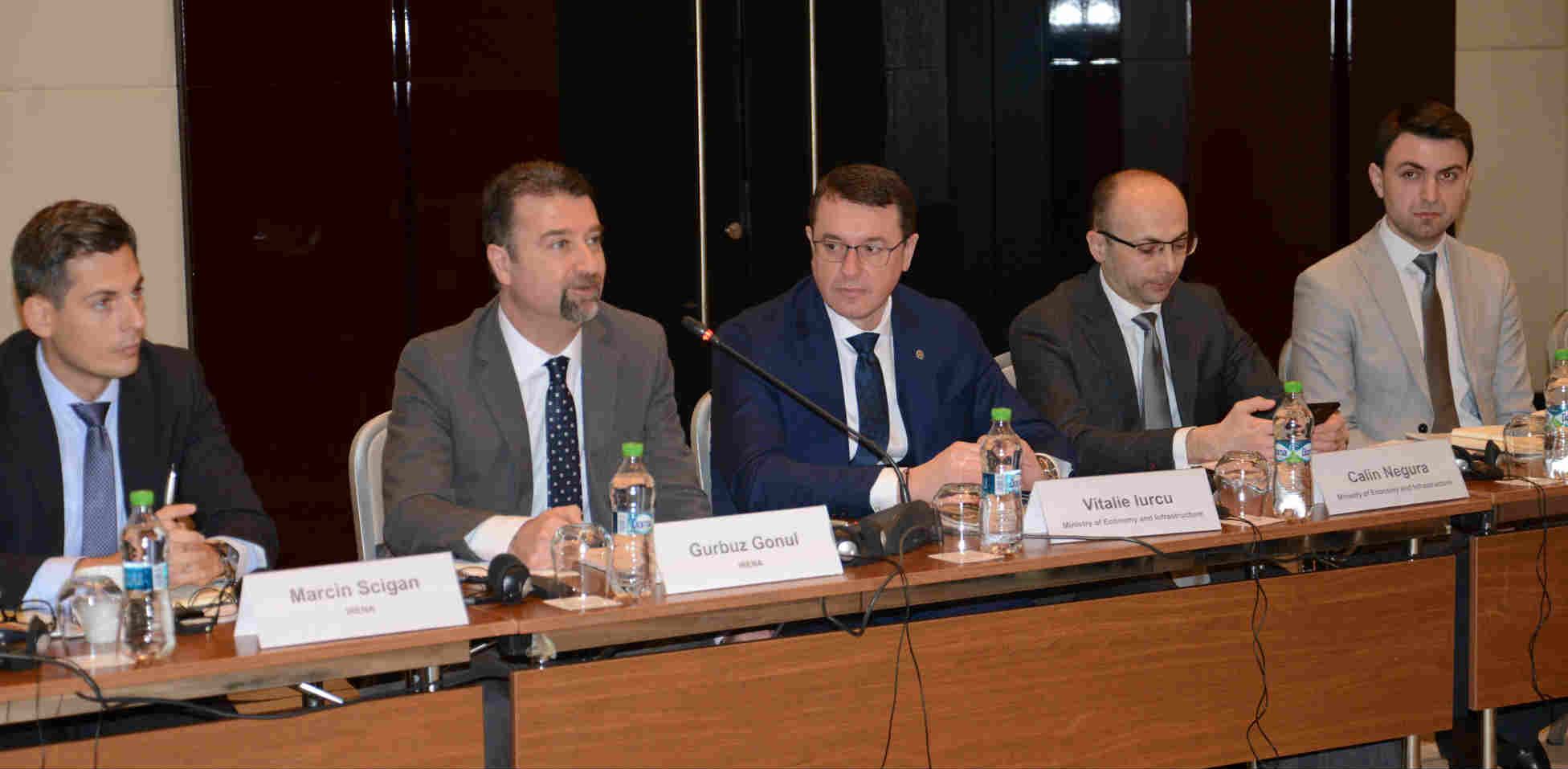 The recommendations outlined in IRENA's report therefore represent an important contribution to national efforts. The report was also instrumental in building cooperation between the country's public and private sector. With Republic of Moldova's policy makers and broader energy community working towards an accelerated ramp-up of renewables, public-private dialogue and partnerships will be critical. "The development of this RRA report, as a process, has established a real platform for communication between the most interested parties, so that the interaction between them is as direct and productive as possible," said Ministry of Economy and Infrastuctrure State Secretary, Mr. Vitalie Iurcu speaking from the launch event. He noted that the process had been "to the benefit of the investor community, the national authorities and not least the consumer" in addition to serving the country's sustainable development concerns.
To build on that platform, concrete steps are required, says IRENA's Gurbuz Gonul.
"IRENA's analysis outlines that in order to solidify the renewable energy sector's foundations, an enhanced regulatory environment, improved bankability of renewable energy projects and a greater level of public understanding and support for renewables, is necessary," he said. "These measures will allow the country to put renewables at the heart of energy policymaking and enable a smooth and successful low-carbon transition."
The report's 10 key recommendations, are:
Adopt a 2030 renewable energy target in order to provide long-term predictability to the developer and investment community, and reflect the country's energy vision.
Conduct a production cost modelling study to identify any potential operational constraints that could result in an inability of power supply to meet demand.
Strengthen the enabling regulatory frameworks by building on the established legislation to ensure smooth implementation of renewable energy auctions.
Streamline administrative procedures and facilitate their enforcement to clarify and simplify procedures that are perceived by the private sector as an administrative burden.
Develop a strategy for the bioenergy sector to provide a comprehensive assessment of resource potential and clarity on the most suitable technology options.
Encourage the use of, and further develop, the online platform for biomass trade to facilitate market operations and the entry of new fuel suppliers. Furthermore, provide a bridge between biomass producers and potential customers as a repository of information.
Identify an optimal pathway to increase the role of biofuels in the transport sector.
Improve the bankability of renewable energy projects by increasing confidence of financial institutions in the market.
Enhance the capacity of local banks to facilitate the financing of renewable energy projects.
Develop a national strategy to raise awareness and boost understanding of renewable energy sources and their benefits to the country and its citizens.
The full report can be found
here
.