Japan's international renewables leadership can help it scale-up domestic market
Earlier this month, IRENA Director-General Adnan Z. Amin was invited to Japan by Minister for Foreign Affairs, HE Taro Kono, to discuss the era of renewable energy diplomacy and Japan's place within a global energy sector undergoing a rapid transformation.
During his three-day visit, the Director-General visited the Fukushima Renewable Energy Institute (FREA), at the National Institute of Advanced Industrial Science and Technology (AIST) in Koriyama City. FREA is a centre to promote research and development into renewable energy, and to develop innovative technologies. Established shortly after the 2011 Fukushima disaster, the centre is, symbolically, a potent symbol of Japan's eagerness to develop a source of energy that is safe, non-polluting, and sustainable.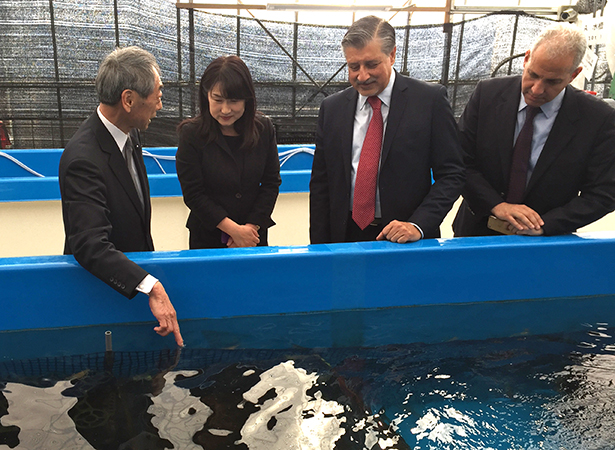 The IRENA Director-General inspects a shrimp farm that uses geothermal excess water.
During his remarks to FREA and Fukushima Prefecture officials, the Director-General pointed out that Japan's global leadership in technological innovation related to renewables places it in a strong position to scale up the use of renewable energy domestically. By 2016, Japan had secured more than 80 000 cleantech patents, representing more than a sixth of the global total. This makes it one of the top three cleantech innovation hubs in the world.
The Director-General also visited a remarkable geothermal binary power generation plant in Tsuchiyu Onsen Town. Japan has the third highest potential for geothermal energy in the world (23 GW), but is currently only using around 2% of this. The plants, which were established as part of recovery efforts, are an excellent model of how geothermal power generation can coexist with tourism related to Japanese onsen (hotsprings), which are typically the most accessible sites to harness geothermal energy. Warm water drainage from the Tsuchiya plant is even powering a thriving shrimp farming business.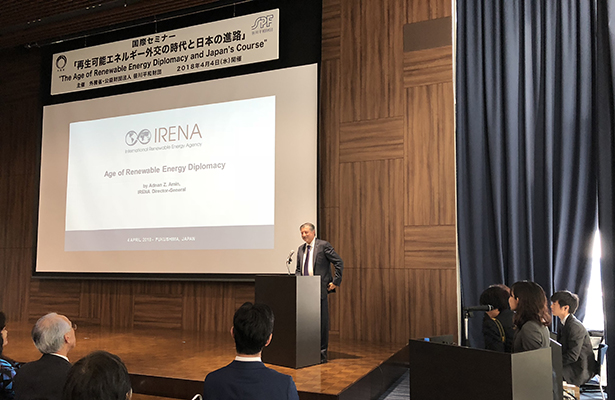 Keynote address at the Sasakawa Seminar
During his keynote address at the International Seminar: The Age of Renewable Energy Diplomacy and Japan's Course (co-hosted by the Ministry of Foreign Affairs and the Sasakawa Peace Foundation), the Director-General explored how the world of international geopolitics is changing in response to the ongoing energy transformation. He further noted that, given the requisite political and financial support, this presents an opportunity for Japan to play a leading role in bringing about a low-carbon renewable energy-based future.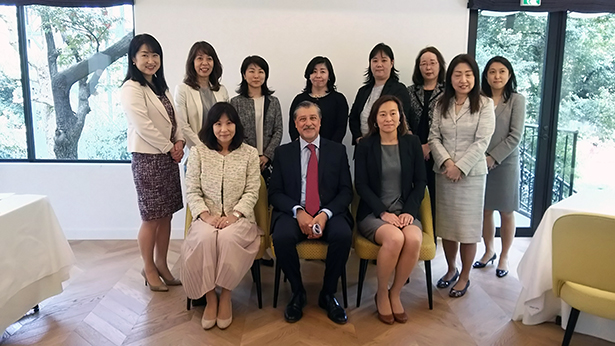 Meeting with leading women in industry, government and diplomacy
In addition, the Director-General participated in an exchange with leading Japanese women in government, industry and diplomacy, where issues related to gender equality and the empowerment of women within the context of the energy sector were discussed. The Director-General also discussed Japan's energy future with HE Taro Kono, Minister for Foreign Affairs, HE Hiroshige Seko, Minister of Economy, Trade and Industry, and ministry-level officials from the Ministry of Agriculture, Forestry and Fisheries and the Ministry of the Environment. The Director-General also met with industry representatives (JASE-W members), and the Japan Photovoltaic Energy Association.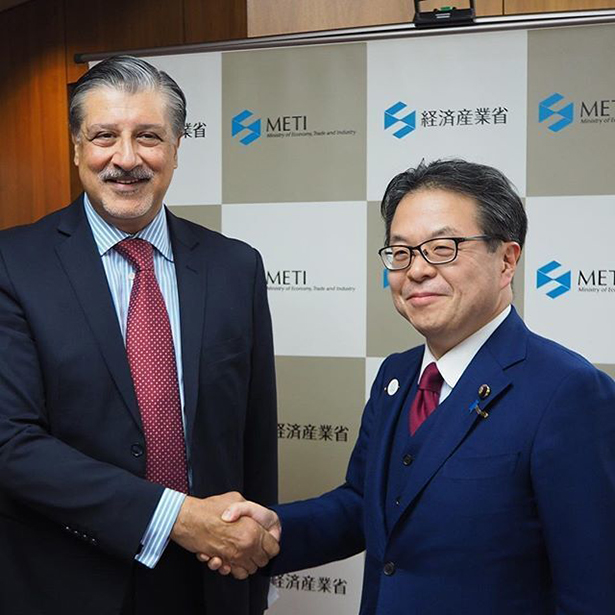 The IRENA Director-General with HE Hiroshige Seko, Minister of Economy Trade and Industry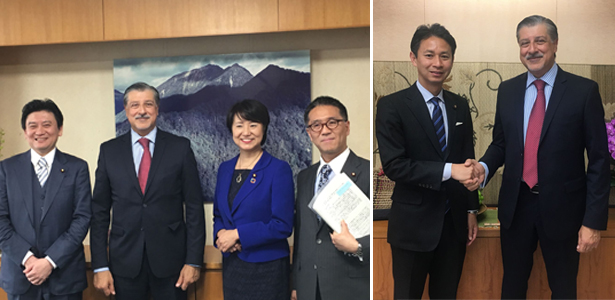 The IRENA Director-General at the Ministry of Environment and Ministry of Agriculture, Forestry and Fisheries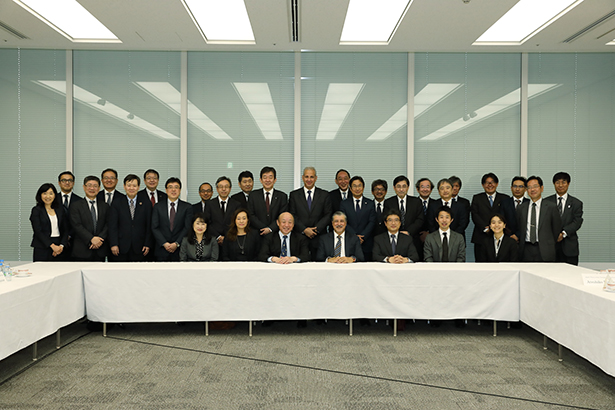 The IRENA Director-General with JASE-W Members