COP23 Renewable Energy Day:  Action on Climate and Accelerating Energy System Transformation
Governments of Fiji, Germany and United Arab Emirates together with IRENA and Deutsche Post DHL Group, host 'COP23 Renewable Energy Day' to accelerate energy transition
A year on from the Paris Agreement coming into force, COP23 under Fiji's Presidency and hosted by Germany, is firmly positioned as the COP for implementation and action on climate. With that in mind, more than 300 delegates attended COP23 Renewable Energy Day, organised by IRENA together with the Governments of Fiji, Germany and the UAE and Deutsche Post DHL Group, to accelerate the energy transition.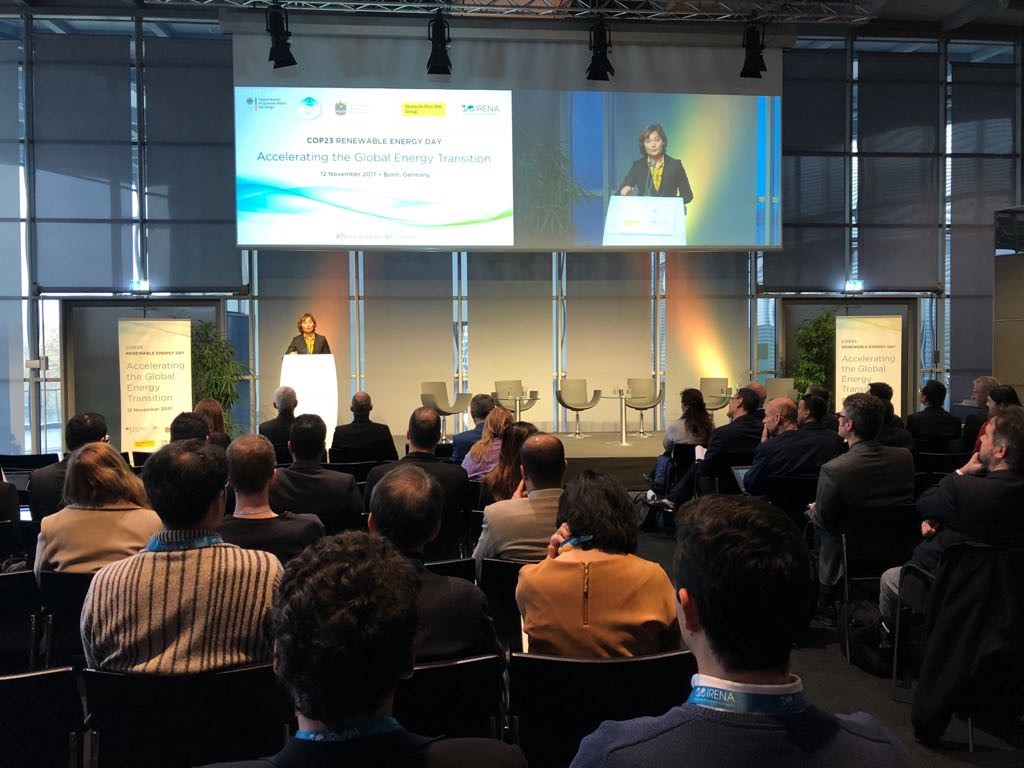 Here's a short breakdown of what happened during the day:
Adnan Z. Amin, Director-General of IRENA welcomed delegates with this opening statement. "Renewable energy is good for climate and good for growth, which is the key message that we are bringing to this climate change conference," setting the stage for address that made a case for strengthening renewable energy ambition in the pursuit of climate and economic goals. "If we are serious about tackling climate change, we need to decarbonise the energy sector," he said. "We believe that energy transition is not only technically feasible but also economically attractive as it will fuel economic growth and create new employment opportunities."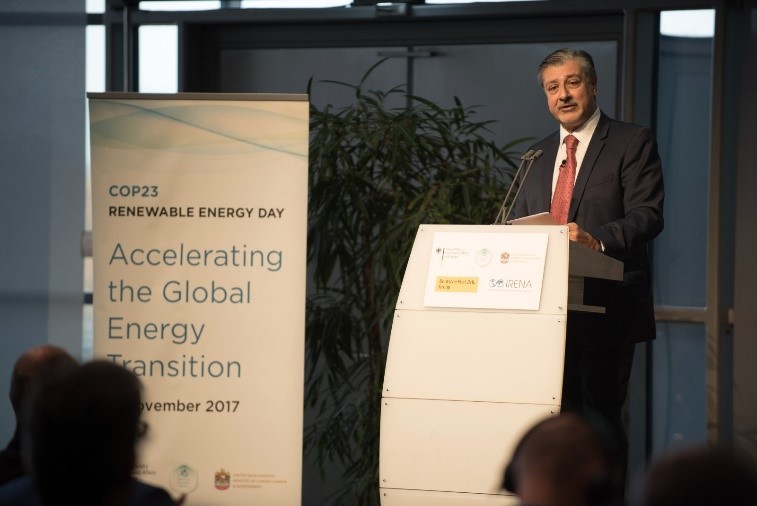 The Energy Transition
Investments will flee decline and flood to growth
The energy transition will be fast, dramatic and soon, said Trusted Sources energy strategist, Kingsmill Bond, to Renewable Energy Day attendees, explaining the inflection point for renewable energy and peak fossil fuels is just around the corner – which will result in private capital fleeing areas of decline and flooding to areas of growth, such as renewables.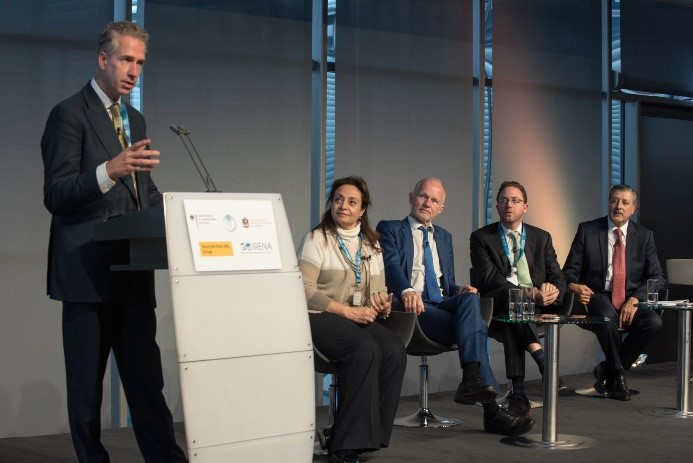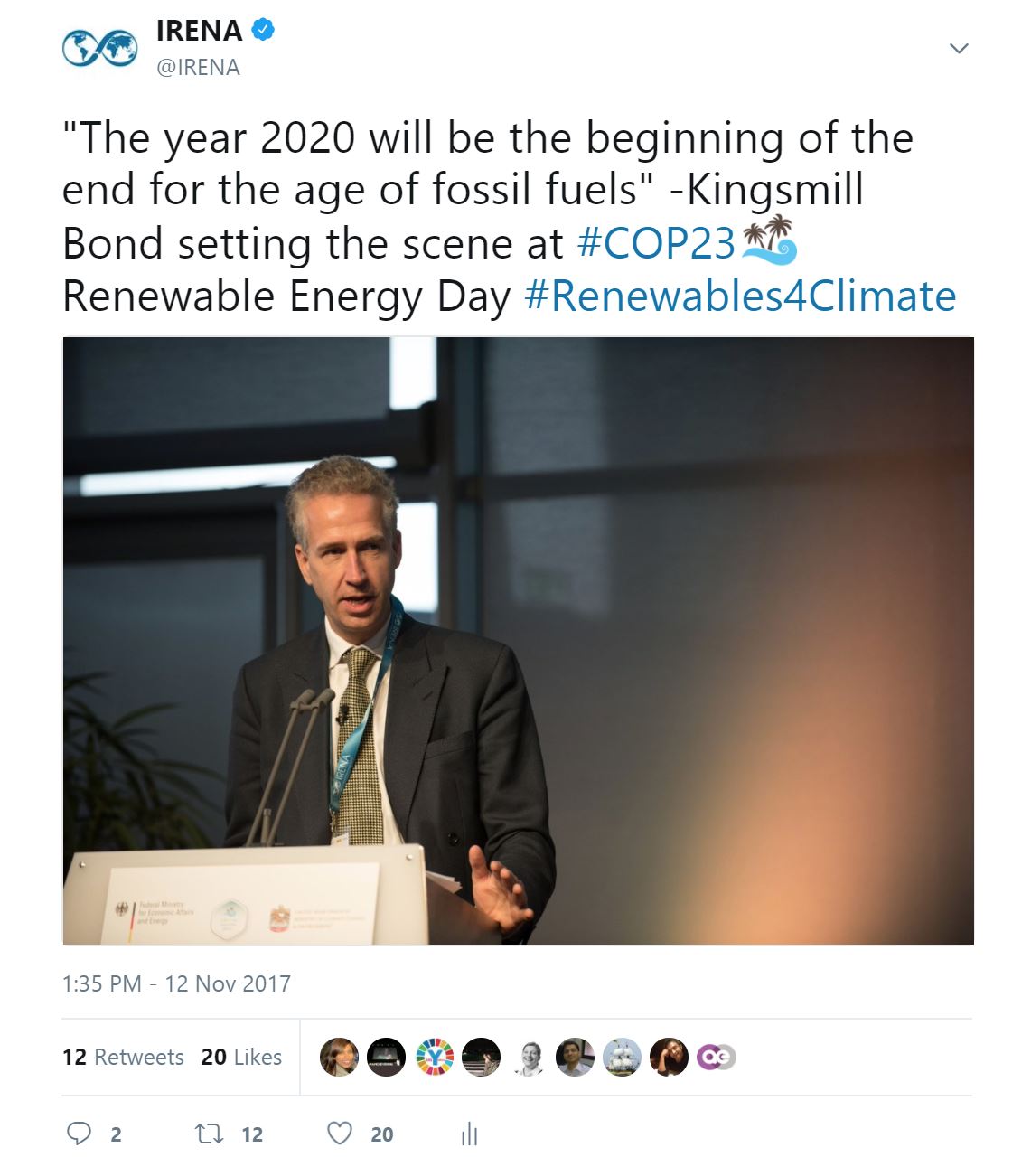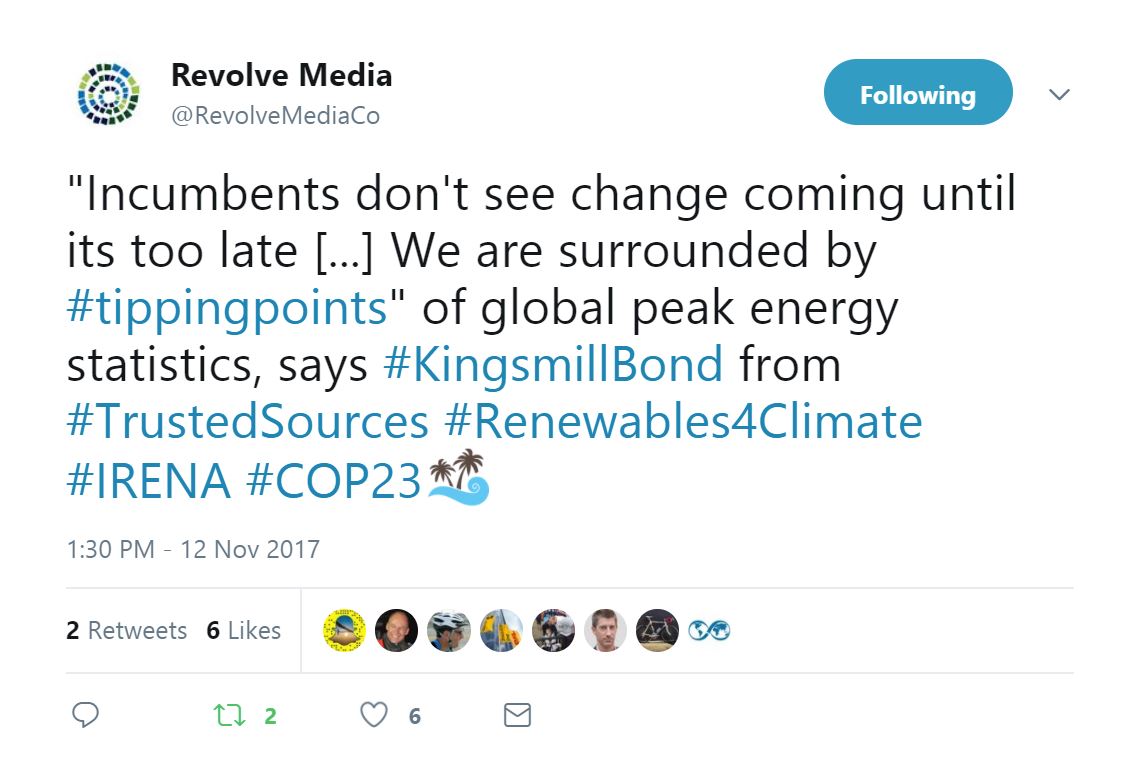 Amani Abou Zeid, the African Union's Commissioner for Energy and Infrastructure; Rainer Baake, Germany's State Secretary for the Federal Ministry for Economic Affairs and Energy; and Sebastian Kind, Argentina's Undersecretary for Renewables, in the Ministry of Energy and Mining then discussed perspectives on the transition.
Rainer Baake, State Secretary, Federal Ministry for Economic Affairs and Energy, Germany – co-hosts of the event said renewables are central to economic growth and are key to the Paris Agreement.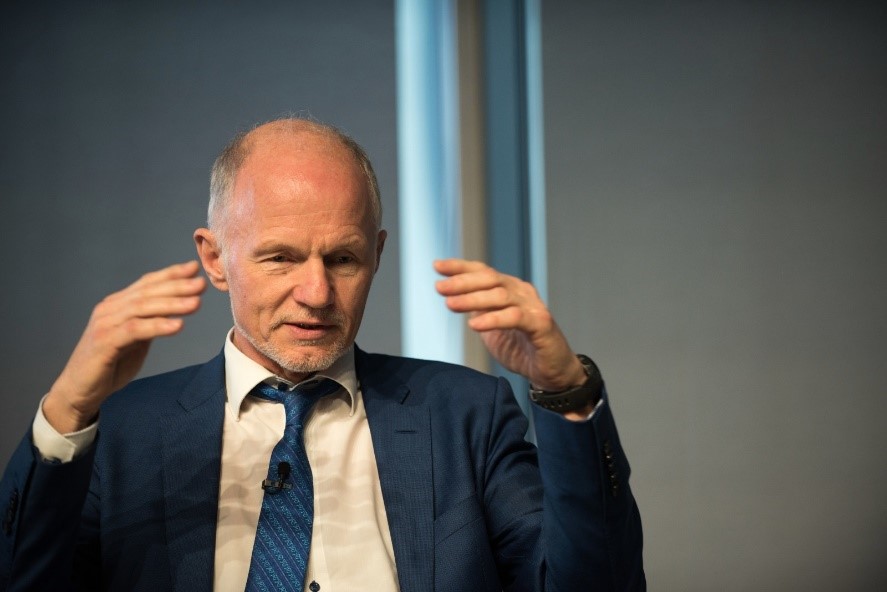 "Renewable energy is a key element for a profound and accelerated global energy transition that will not only fundamentally modernize our economies, create growth and innovation, but it will also help to successfully implement the Paris Agreement."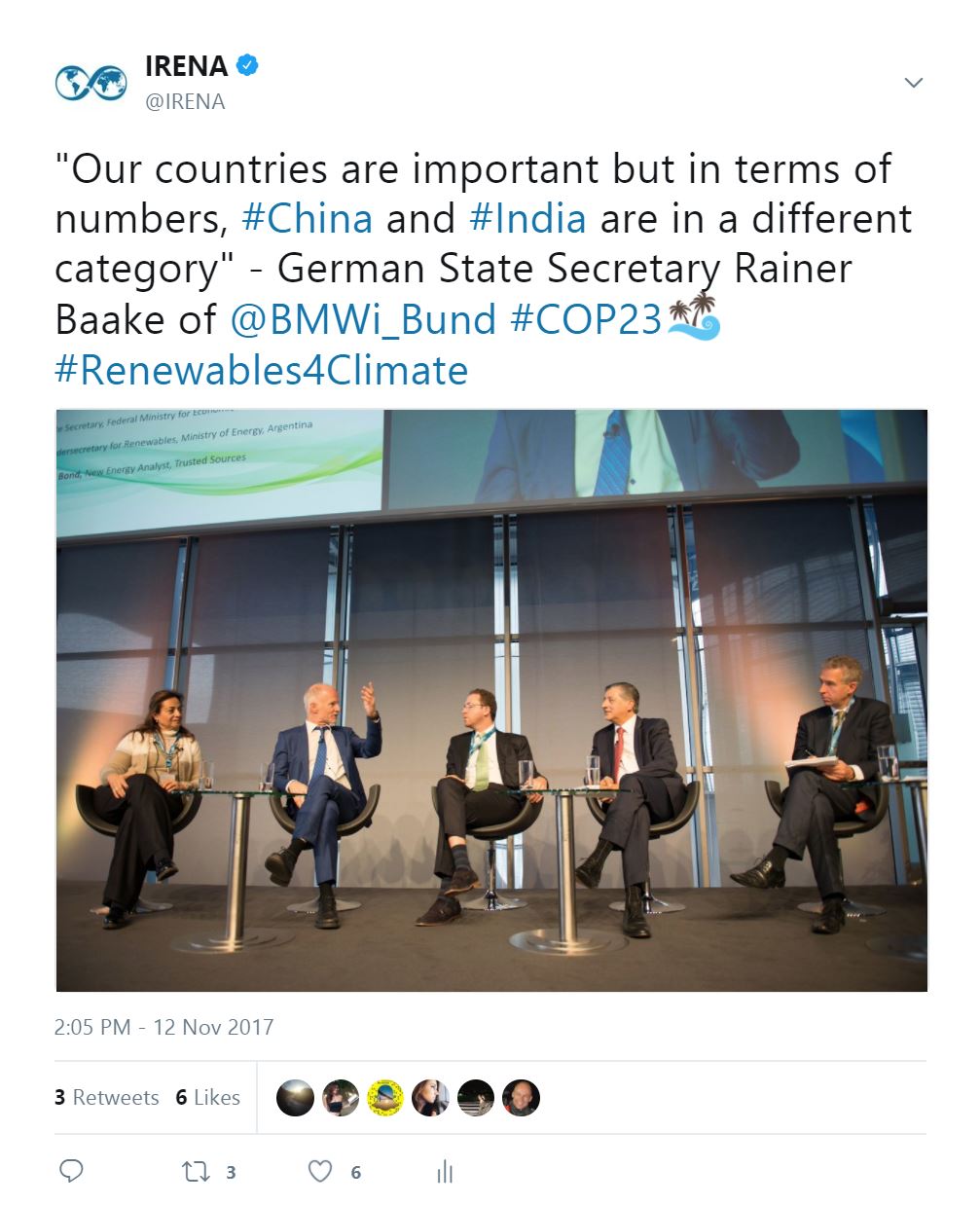 Co-host the UAE, offer further support to the economic case for renewable energy
His Excellency Dr Thani bin Ahmed Al Zeyoudi, Minister of Climate Change and Environment in the UAE said: "The rapid deployment of renewable energy has been the dominant force in the global efforts to address climate change, and the UAE is proud to be playing its part. The UAE firmly believes that renewables makes economic sense, which has been proven by the creation of jobs and industries. We will continue to scale-up renewable energy deployment through the region's first national Climate Change Plan 2050 to meet our ambitious NDC targets."
The United States remains committed to the Paris Agreement
Achieving the goals set within the Paris Agreement remains a key priority for the US too, said California State Governor Jerry Brown, who emphasised that climate action is taking place right across America.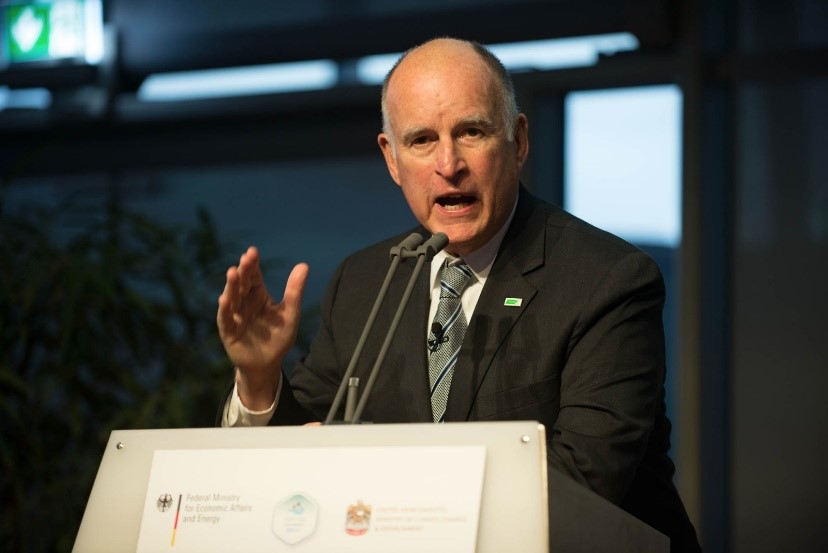 "Climate change is real, and it presents a threat to global security and prosperity that is beyond comprehension. At a state level, at a city level and at a business level right across the United States of America there is recognition of that threat, there is collective intention to fight it, and there is tangible progress in the pursuit of a sustainable future," said Governor Brown.
"This conference has offered us (the US) a tremendous opportunity to communicate the fact that the US remains committed to the Paris Agreement and we look forward to building the alliances and partnerships necessary, across governments and industry, to accelerate sustainable solutions and help us avoid the worst effects of climate change."
Under Governor Brown's leadership the state is in the process of adopting one of the most ambitious renewable energy goals in the world: a new energy law will require California to produce 50% renewable energy by 2026, 60% by 2030, and 100% by 2045.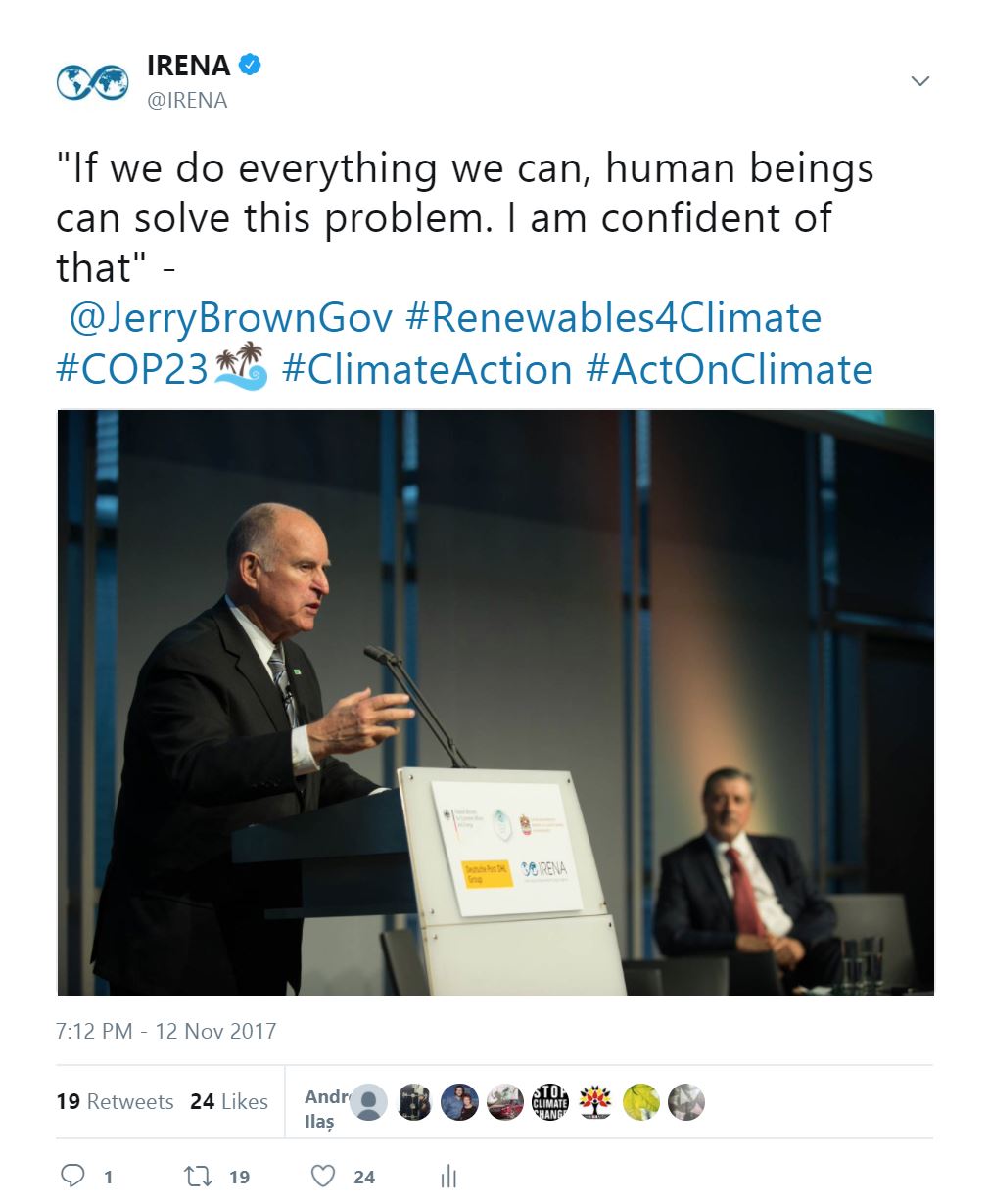 Renewable Energy Day hosts Deutsche Post DHL Group, is a major German company with bold low-carbon targets of its own. Their CEO Frank Appel, shared how corporations have a responsibility to help reduce carbon emissions and promote clean energy..
Dr. Frank Appel, Chief Executive Officer of Deutsche Post DHL Group said: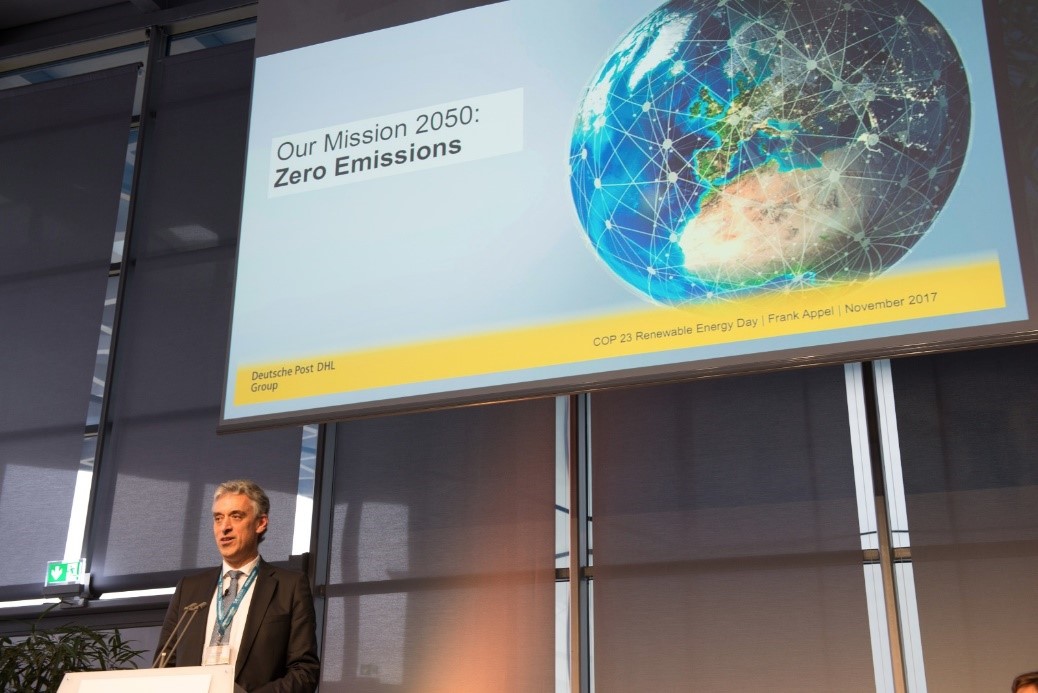 "Our commitment to be zero emission by 2050 requires a fundamental rethinking of our business activities. For Deutsche Post DHL Group, re-evaluating our business decisions through the prism of sustainability has resulted in us questioning our established way of doing things. More than ever before, we are harnessing the energies of our employees in creating a company-wide spirit of innovation and sustainability to provide solutions not only to benefit our customers but also to be a benchmark in our industry."
Explorer and pilot of Solar Impulse — the world's first solar-powered plane to circumnavigate the globe — Bertrand Piccard, spoke about the need to push the energy transition beyond existing boundaries. And Alexy Tarasov, Head of the Laboratory of New Materials for Solar Energetics at Moscow State University, described the future solar technology that will help transform the energy sector.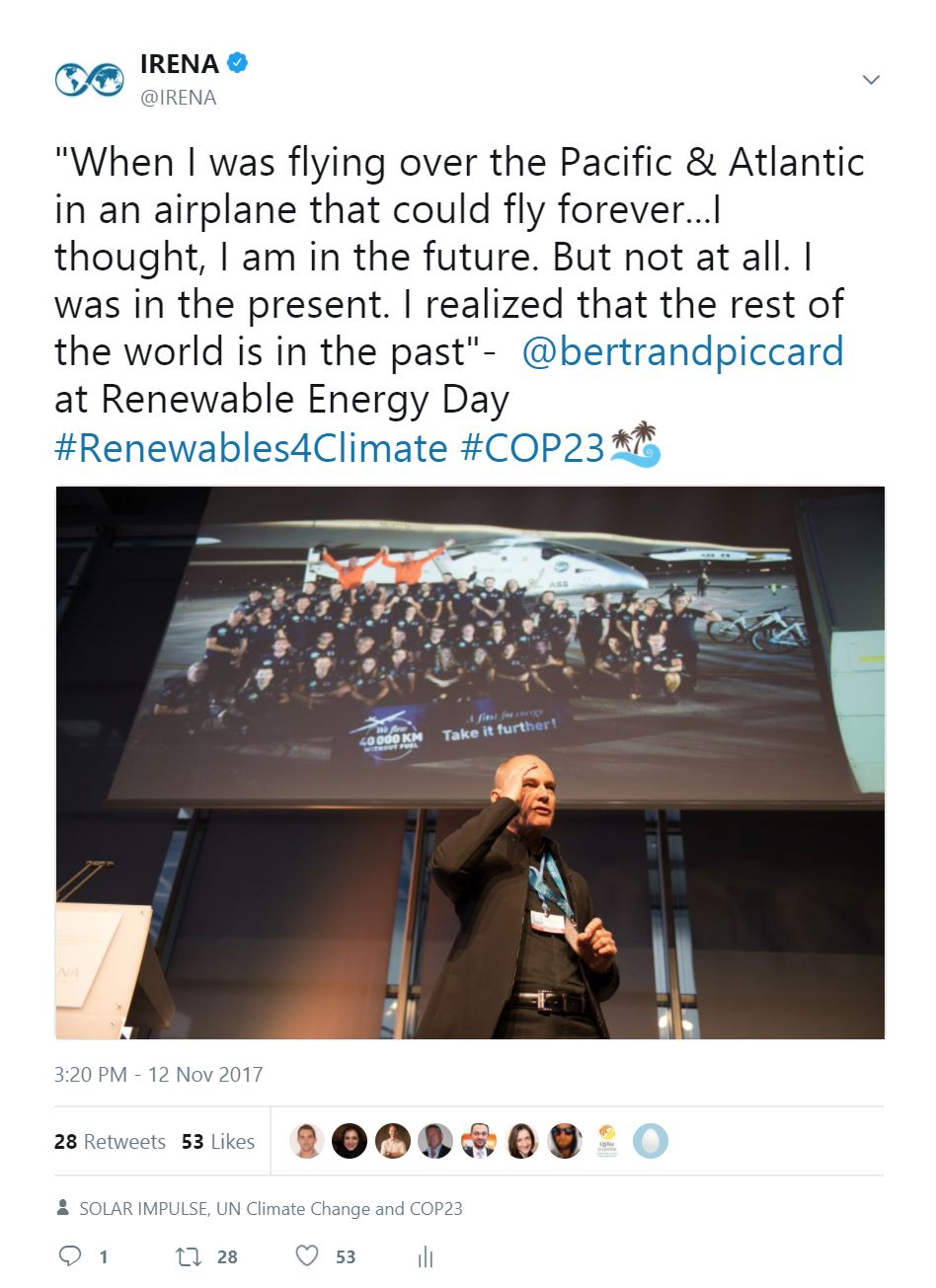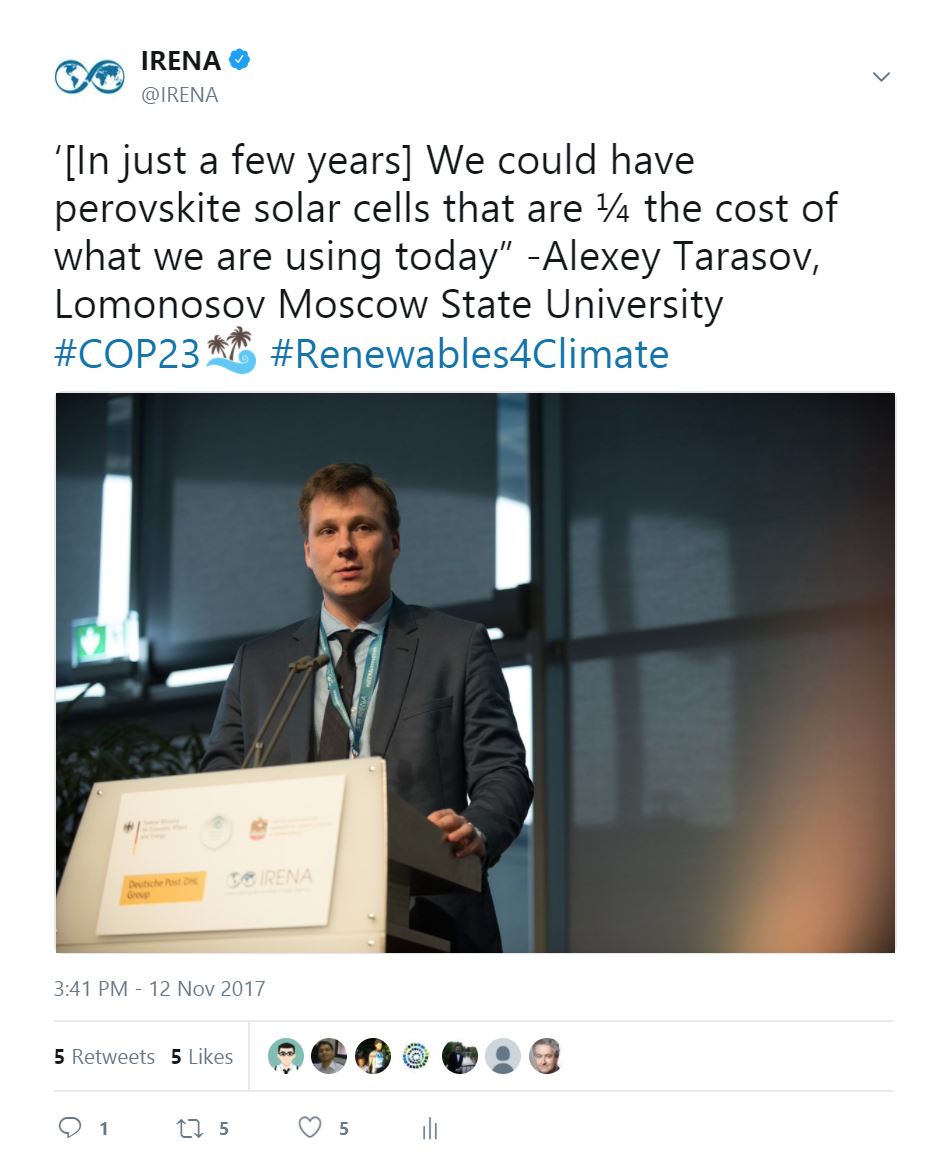 China – the world's largest renewable energy market – is at the forefront of the global energy transition. The Chinese energy industry is also making enormous strides in addressing the country's environmental challenges. A special address by Shu Yinbiao, Chairman of State Grid Corporation of China, and a presentation by Zhang Lei, CEO, Envision Energy, shared their insights on the ongoing paradigm shift in China.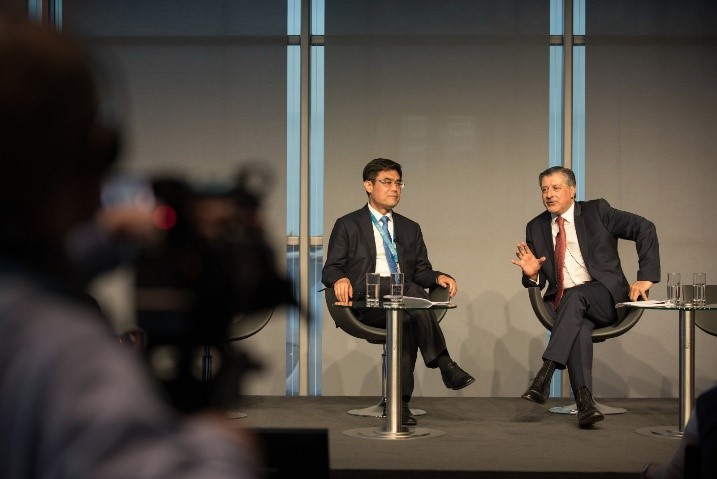 It was a day of optimism for the future of our climate, and bullishness on the trajectory for growth in renewable energy and as the programme wound to an end, Monika Jones, Deutsche Welle presenter and the event's moderator, reminded us that…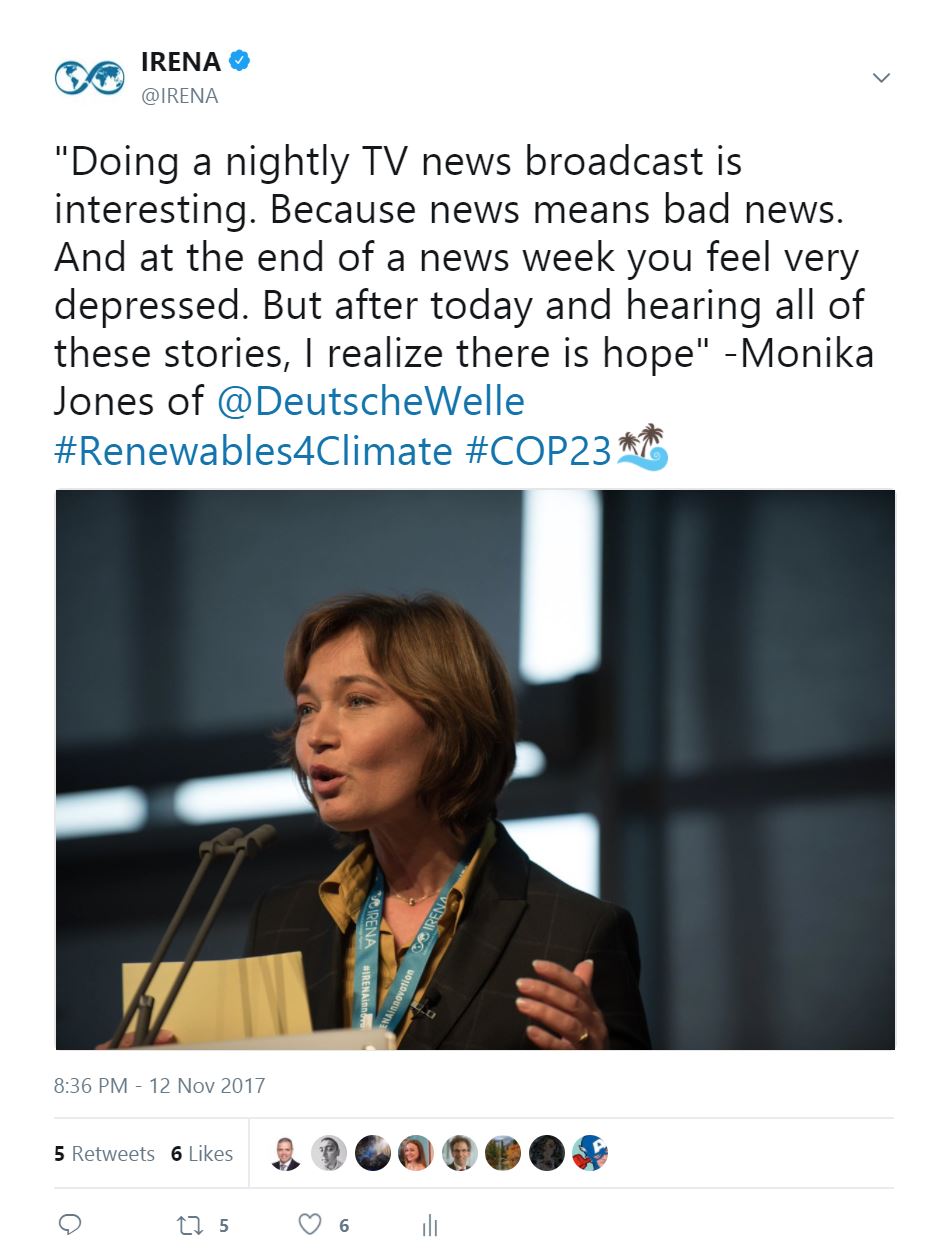 Streams of the morning and afternoon sessions can be watched on IRENA's YouTube and Facebook pages, or on this page below.