Developing Bankable Woody Biomass Projects
Bioenergy, renewable energy derived from biological sources, today accounts for as much as three-quarters of total final renewable energy use — making it by far the most widely used renewable energy source worldwide. IRENA estimates that to meet international climate change targets, the share of renewable energy will need to be doubled by 2030, and bioenergy can account for around half of that.
Falling costs and favourable policies have resulted in a dramatic rise in installed generation capacity worldwide, but the deployment of renewables is at times still stalled by projects that do not meet the specific standards required to obtain the necessary financial support. To support the successful development of woody biomass projects, IRENA has launched new technical guidelines on Woody Biomass, as part of its online Project Navigator platform. Just as the utility-scale solar PV guidelines, released last October, the newly released guidelines describe in nine stages what is needed to plan, establish, operate, and decommission a bankable woody biomass project.
"These guidelines can be used by project developers, public service units, academia, and anyone who wants to know how to develop a bankable woody biomass project," said Dolf Gielen, Director of IRENA's Innovation and Technology Centre. The Technical Concept Guidelines for Woody Biomass joins IRENA's collection of expanding resources for project development that already includes on-shore wind and utility-scale solar PV plants. "Through IRENA's supportive guidance, project developers can use tools and templates in nine stages to navigate potential project pitfalls and deploy woody biomass projects successfully," Gielen explains.
But what are these nine stages, and what do project developers need to consider in each phase to avoid stalling their projects?
Getting started
"Most renewable energy businesses are based on long-term agreements with utilities, or they sell into a large and established market," says Roland Roesch, IRENA's Senior Programme Officer for Renewable Energy Markets and Technology Dialogue. "Managing project risks is crucial as both the feedstock and the targeted market may change or even disappear during the lifetime of the project. One mitigation measure lies in identifying a range of feedstock sources, markets and technologies, rather than fixating on only one solution. This is the first step, the identification stage."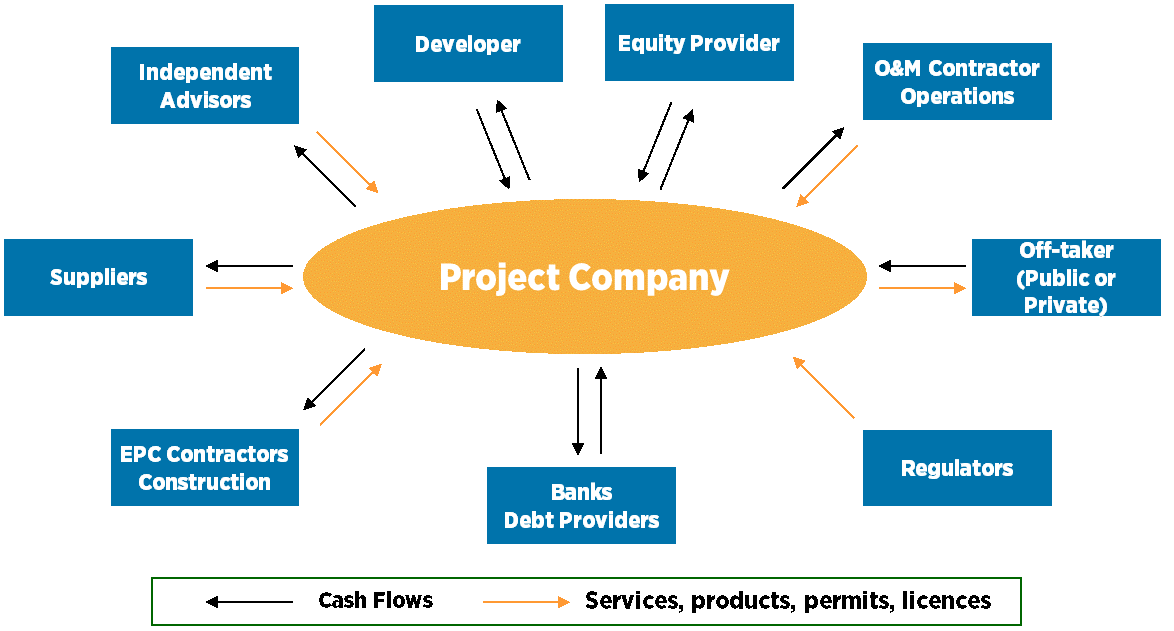 An outline of the interactions between various project stakeholders.
After the identification stage, screening can begin. Screening involves making comparisons between feedstock, business models, related policies and programmes, and project sites. IRENA's guidelines help planners address typical 'show-stoppers' — issues that can cause a biofuel project to fail — and advises that projects should be thoroughly checked in their early development process to avoid wasting energy and money investments.
Assessing a number factors like feedstock type and availability, community concerns, market data, cost estimates, preliminary financial assessment, project options, and ranking of options, are crucial. "The cost of a plant increases with its size, capacity and projected output, and so there are economy-of-scale effects to take into account," explains Roesch. "Essentially, the larger a plant gets, the lower the cost per tonne of plant capacity will be. It's in the assessment phase that project planners can identify the 'sweet spot' between costs and plant capacity."
The selection stage involves stakeholders and external decision makers who evaluate the bankability of project alternatives. These decision makers investigate the relative financial viability of alternatives, long-term feedstock availability, the availability of human resources, and any potential issues that could cause the project to fail.
After the selection phase, pre-development of the project can begin, during which technical and economic planning is done. Major engineering studies are undertaken, including the conceptual design of the processing plant, and these form the basis for the project's permits, licences and authorisations.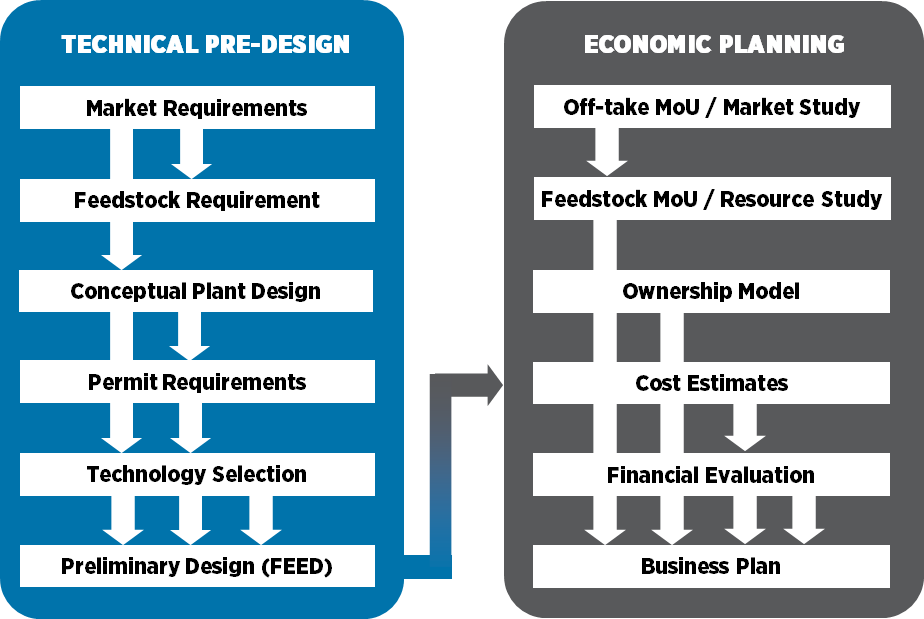 An illustration of the flow of activities during the pre-development phase.
Building bankability
The final development phase of the project is the single most critical phase of the whole development process. Final decisions that affect the project's future performance, are taken, and all activities previously performed under multiple tasks and in different project development steps are finalised to decide if and when the project is 'bankable.'
"A project is generally considered bankable if a bank or lenders are willing to finance it," says Simon Benmarraze, an analyst working on the Project Navigator. "Each lender and investor has criteria to judge whether a project is bankable. Specifically, bankability means that the results of the financial model are in line with the expectations of investors and lenders."
A project's construction phase stretches from equipment procurement, to construction, installation and plant commissioning. The key concerns for project developers during construction should be cost, quality, and planning control measures.
Once construction is complete, the hopefully long period of operations should be begin. The focus of this phase should be to achieve and consistently maintain projected production levels and product quality, with the careful monitoring of feedstock quality, and best storage and processing practices.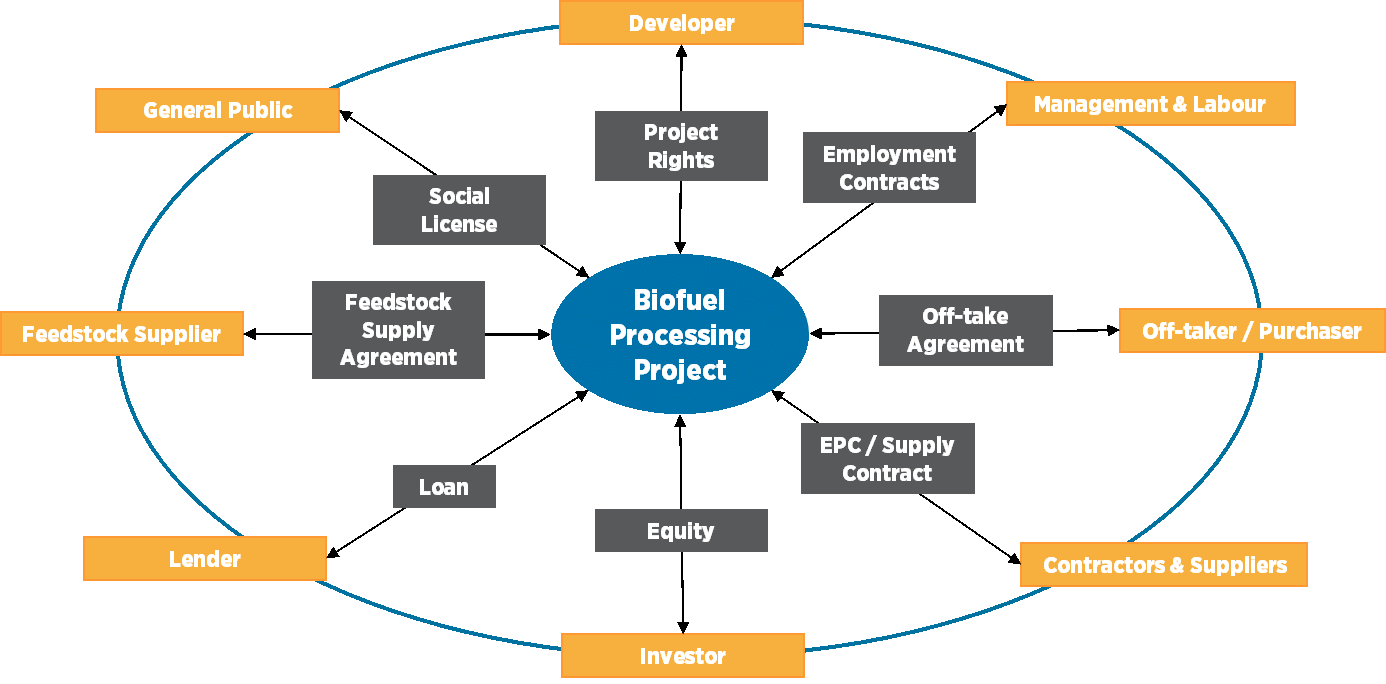 The key stakeholders that take part in a medium- to large-scale biomass fuel-production plant.
"Constant maintenance, fine-tuning, and adjustment are necessary to maintain smooth operations and uniform product parameters," explains Benmarraze. "Some of these skills cannot be prescribed but depend on the equipment used, and will become part of the in-house knowledge of the biofuel producer."
At the end of a project's lifecycle, decommissioning begins. During this phase a biofuel plant may either be re-tooled so that it can continue to operate, or it can be decommissioned and its site rehabilitated.
In anticipation to the launch of the new guidelines, IRENA held an hour-long webinar covering the development of a bankable woody biomass project, which can be viewed in its entirety on
IRENA's YouTube channel
or below. To learn more about developing a bankable renewable energy project,
visit the IRENA Project Navigator website
and try out its modules.