IRENA Global Atlas 3.0: Resource data for renewable energy professionals
An upgrade to IRENA's renewable energy prospecting platform fosters user collaboration to facilitate project development
Energy planners developing solar power and other renewable energy projects now have better access to free data and tools, with the rollout of IRENA's Global Atlas 3.0. Updated with new comprehensive data and features, Global Atlas 3.0 is designed with simplicity, contribution and collaboration in mind, to assist in the early stages of renewable energy project development.
"The new Global Atlas update brings huge improvements for developers, market analysts, energy planners and policy makers. This will lead to more renewable energy projects coming to life and new markets penning up for renewable energy investments," says Henning Wuester, Director of IRENA's Knowledge, Policy and Finance Centre.
A free and publicly open project, Global Atlas has been evolving and improving for the last six years. The online platform seeks to assist energy prospecting for renewable energy sites by providing easy access to accurate maps, and by creating a universal outlet for renewable resource map makers — saving companies, public institutions, universities, and national entities the trouble and cost of developing their own platforms and user bases.
The Global Atlas platform has benefited from breakthroughs in the quality and level of detail of publicly available data. Six years ago, wind and solar map had a spatial resolution of just 50 km, but this has now improved down to 1km. Having gained access to this high quality data from research institutions, private companies, development banks and national governments, IRENA is sharing it freely on Global Atlas fostering renewable energy deployment globally.
Taking a user-focused approach, with this update the Global Atlas now allows for much of the data to be downloaded. "We've focused on the service that brings value to our users in their daily work, and are now emphasising prospecting, user collaboration, and the promotion of our data providers and partners," says Henning Wuester. "Through close collaboration with our partner countries, institutes and private providers we can now bring additional value to business development in the renewables sector."
Simplicity, contribution, collaboration
Staying true to its simplicity, contribution, collaboration mantra, Global Atlas 3.0 unveils new user functionality and an upgraded interface that improves the user's experience and fosters a map sharing community. "3.0 is a complete reworking of the platform, that brings a collaborative dimension that people have become accustomed to on platforms like YouTube or WhatsApp," says Abdulmalik Oricha Ali, an IRENA Associate Programme Officer working on the Global Atlas.
In 3.0, users now have capabilities to easily share their maps with the rest of the Global Atlas community. User created maps can be privately sent to friends and colleagues, easily embedded on other websites, and ultimately promoted on the community section of the Global Atlas website. "Through enhanced map sharing and the new map commenting function, we hope to see greater collaboration in renewable energy map making across institutions and borders," says Ali.
New analysis capabilities, a PV battery simulator, a solar water-heater simulator, and a grid-connected solar PV system simulator are all included in the updated tool. Importantly, maps now credit individual data providers by displaying the source very visibly on the interface.
New and upcoming
In December 2016, IRENA launched its bioenergy production simulator, and called on the public to test this new platform and validate its data. That testing period is now complete and the bioenergy simulator and has been fully integrated into the Global Atlas platform.
Further development on the Global Atlas is ongoing, and in the coming months a new wind power cost simulator will be introduced, that combines wind data from the Danish Technical University and IRENA's costs data, which is already open to the public and easy to access through its dashboards.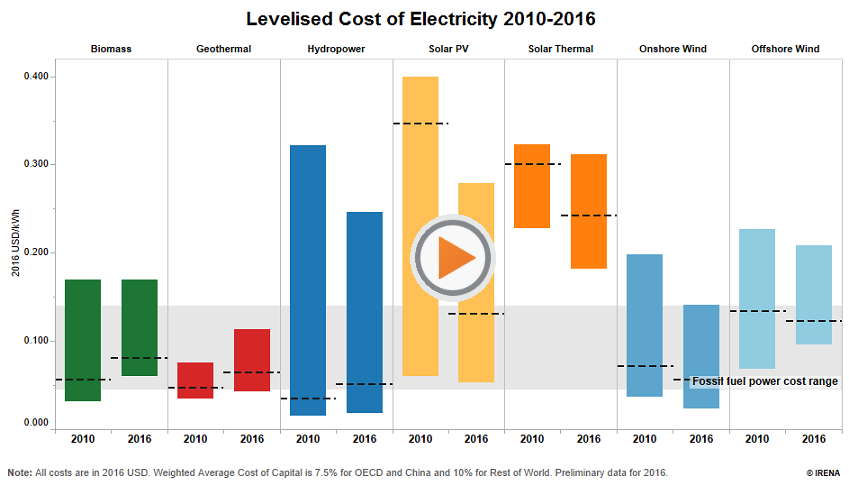 To learn more about Global Atlas 3.0 or try it out, visit its website. Also, view a recording of its launch webinar, showcasing the platform's new features and capabilities, in the link below.