A Renewable Future for Southeast Asia
Southeast Asia is growing fast — its population is expected to grow from around 615 million in 2014 to over 715 million by 2025, and its economies at a rate of five per cent per year. All of this growth is expected to fuel a four per cent annual growth in energy demand, raising the region's share to over 7.5 per cent of the world's total.
To meet this growing energy demand in a sustainable manner, last October, the Association of Southeast Asian Nations (ASEAN) set an aspirational target of supplying 23 per cent of its total primary energy from modern renewable sources by 2025. With its current set of policies, the region is on path to only reach a 17 per cent share by that time — six percentage points short of the target.
Today, during the 34th ASEAN Ministers on Energy Meeting being held in Nay Pyi Taw, Myanmar, IRENA and the ASEAN Centre for Energy (ACE) are previewing a study, Renewable Energy Outlook for ASEAN — a REmap analysis, showcasing technological and sectorial renewable energy deployment options that can help ASEAN countries achieve their target by 2025. The study will be released publically later this year.
"While the share of renewable energy each country can achieve varies, the fact remains that all ASEAN countries can contribute to the 23 per cent goal in their own way," says Dolf Gielen, Director of IRENA's Innovation and Technology Centre. "Around the world renewable energy is becoming a least-cost option for energy, and this is true for the ASEAN region too. Additionally, renewable energy can enable higher rates of electricity access enabling the region to meet its electrification goals," says Gielen.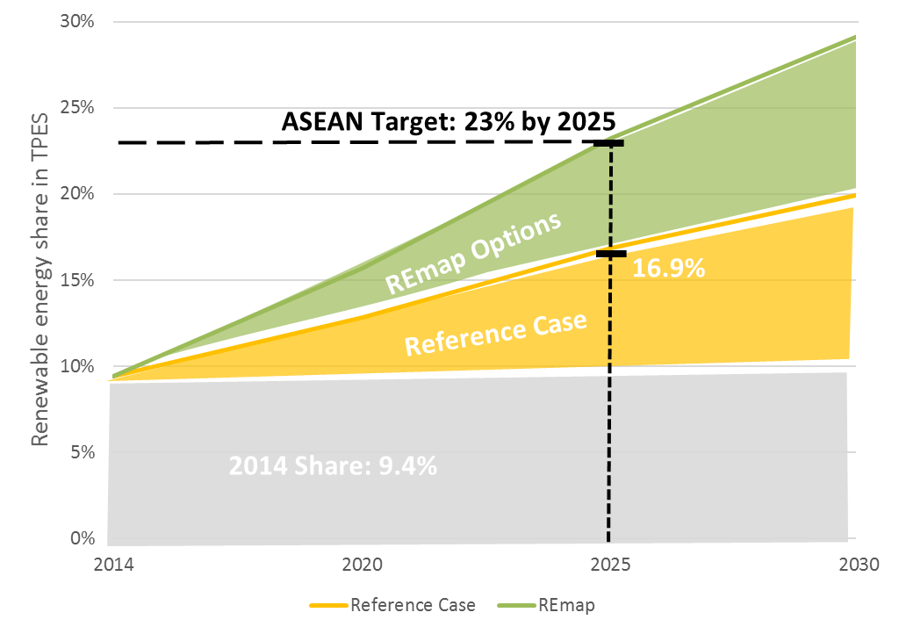 ASEAN's current trajectory will see the renewable energy share reach 17 per cent by 2025, up from around 9 per cent today. The pathway in the REmap analysis could see the target share of 23 per cent achieved in ASEAN's total primary energy supply.
Supplying the region's energy in a sustainable manner is of growing importance, as the environmental costs related to increasing demand for energy mounts. It is estimated that CO2 emissions in the ASEAN region will increase 60 per cent by 2025 — one of the fastest rates in the world. The additional renewable energy potential identified in the study that closes the gap to the ASEAN's renewable energy target will restrain the CO2 rise to 47 per cent. Gielen points out, "In addition to rising CO2 levels, air pollution associated health and environmental costs across the region could rise on average to USD 225 billion per year by 2025, or around 2.2 per cent of the region's GDP."
Deploying more renewable energy isn't cost-free, but the region is rich in renewable energy resources — particularly bioenergy, hydropower, geothermal and solar — and further deployment could create huge savings when accounting for reduced externalities that result from replacing fossil fuels with renewable energy. The reduced externalities from indoor and outdoor air pollution resulting from the use of renewable energy technologies identified in the study, could create savings 10 to 50 times higher than their cost. "In the REmap analysis, we found that savings from reduced externalities are the equivalent to between 0.3 and one per cent of ASEAN's GDP in 2025," explains Gielen.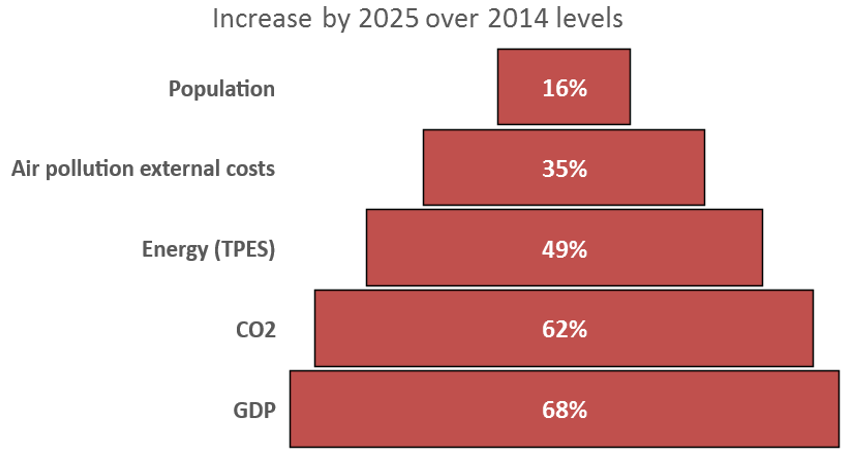 Substantial economic growth is expected in the coming 9 years, but with it energy demand and pollution will also rise.
At the ministerial meeting, IRENA and ACE are previewing the upcoming study for ministers. The report lays forth some high-level suggestions for promoting regional technology and information cooperation that can help enable ASEAN to reach its target of a 23 per cent renewable energy share:
Increase power system flexibility in the ASEAN region while using renewables to provide modern energy access for all
Expand efforts for renewable energy uptake in the heating, cooking and transport sectors
Create a sustainable, affordable and reliable regional bioenergy market
Address the information challenge: collect, report, and share more data on the energy landscape
The full report Renewable Energy Outlook for ASEAN — a REmap analysis will be released later this year. Click here (PDF) to see the presentation given to ASEAN. To learn more about IRENA's REmap programme, visit the REmap website.