IRENA and UNFCCC Discuss "Vital" Role of Renewables in Fighting Climate Change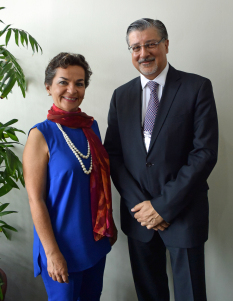 "Quite frankly, there is no answer to climate change without substantially, dramatically, increasing the amount of renewable energy in the global energy system." – UNFCCC's Christiana Figueres during IRENA video interview
Today, IRENA's Director-General Adnan Amin met with head UN climate chief Christiana Figueres to discuss the key role of renewables in addressing climate change.
More than 80% of human-caused CO2 emissions come from burning fossil fuels for energy. Of that, 44% comes from coal, 36% from oil and 20% from natural gas. As such, energy must be our priority in bringing down global CO2 emissions.
World electricity generation is forecast to grow 70% by 2030. A doubling in the share of renewable energy, from 18% today to 36%, would help mitigate climate change by reducing the global average emissions to the equivalent of a 40% intensity reduction compared to 1990 levels. For more, read IRENA's REmap 2030 analysis.